400 Toys R Us Shops Will Open Inside Macy's Next Year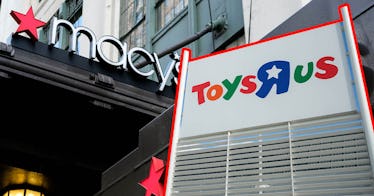 GETTY
Our question is, Will Geoffrey the Giraffe be wandering around Macy's in the near future? It's quite possible, even likely, and that's because Macy's and Toys R Us are joining forces to install 400-plus Toy R Us shop-in-shops in Macy's stores nationwide in 2022. Toy R Us, of course, will offer its familiar array of games, toys, gadgets, and more. Also, because the scale is smaller, maybe the things that were bad about old-school Toys R Us will be mitigated. Smaller-scale means more curation and less awfulness, right?
All in all, this move makes sense for both venerable but struggling brands. Toy R Us couldn't compete with the likes of Walmart and Target, which offered more than just toys, nor could they compete with Amazon. So, the company – along with its mascot, Geoffrey — vanished into the sunset, at least on the brick-and-mortar level.More recently, they have had an online presence, powered by… Macy's. Adding the Toys R Us shop-in-shops, meanwhile, means that Macy's can offer shoppers additional options. Mom or Dad heads into Macy's to buy a shirt or a toaster oven or makeup or jewelry, and now they can grab some fun toys for their kids, too, on the very same shopping excursion.
So, for Christmas 2021, there will not be a bunch of Toys R Us shops inside of Macy's. But next year, it might feel like old times.