13 Summer Camps You Won't Believe Actually Exist
Camp isn't just s'mores and bug juice anymore. If your kid can dream it, there's a camp for it. Seriously, they even have Zombie Camp now.
by Aaminah Khan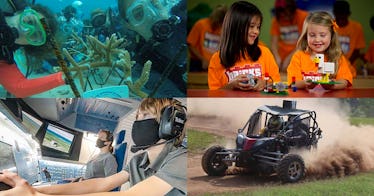 Summer camp used to be the place where parents sent their kids to learn how to build a fire, row a boat, fend off mosquitoes, and acquire a taste for bug juice. But as modern parenting became more intensive, new summer camps emerged to meet the demands for less laissez-faire kid's activities. There might still be plenty of bugs (and probably some juice) at general summer camps for kids, but these days there's a specialty camp for every activity your kid has taken an interest in. From the niche (see: Entrepreneur Camp ) to the nerdy (see: Space Camp) to the "no way that's real" (see: Circus Camp), these 13 alternative summer camps will blow instructional swim right out of the lake.
Entrepreneur Camp
If your kid would rather watch Shark Tank than Shark Week, Camp BizSmart will start them on the path to success. Campers spend 10 days learning to solve business problems, getting mentored by up-and-coming Silicon Valley CEOs, and ultimately pitching their ideas to angel investors. By the end of the program, your kid will know better than to accept that damn royalty-contingent offer from Mr. Wonderful.
Motorsports Camp
Kids at Motorsports Camp get to experience the thrill of driving every day, either in a racing go-kart, a dirt kart, or half-scale race car. It beats the hell out of sitting on your lap and steering, and you won't have to teach them to drive stick when the time comes. No prior experience or driver's license is necessary, which is good because kids can enroll starting at age 9.
Circus Camp
There are still a few ways to keep the dream of running away and joining the circus alive — only you can sleep easy knowing your kid will, in fact, return at the end of the summer. The Westchester Circus Arts Camp is run by professional circus performers, aerialists, and trapeze artists, while Camp Winnarainbow was founded by Wavy Gravy in the '70s and is pretty much exactly what those 2 names suggest. If Circus Camp is too hippie-dippy for you, you should probably stop reading this list right now.
Westchester Circus Arts CampCamp Winnarainbow
Space Camp
The original summer camp for nerds you read about in the back of a Boys' Life magazine, Space Camp has been the reason to visit Huntsville, Alabama for 33 years. More than 700,000 baseball-hating kids have passed through Space Camp's hallowed shuttles, and as easy as it is to rag on them, they probably made off with a whole bunch of those precious STEM skills everyone seems to covet these days. Plus, come on — what kid doesn't want to be an astronaut?
Lego Camp
Bricks 4 Kidz offers programs all over the country that use the king of all toys to teach kids about architecture, engineering, and mechanics. Kids spend one-week sessions building sets and figures (all of which are awesome, naturally) arranged around themes like pirates, amusement parks, Minecraft, and retro arcade games. You'll probably want to volunteer as a counselor in training for that last one.
Spy Camp
For 2 weeks each summer, the International Spy Museum in Washington, D.C. becomes a training ground for groups of kids between 10 and 13 who want to learn the science of stealth. Their teachers are real-life James Bonds who school them in disguise, code-breaking, escape and evasion, and all those wonderful spy toys. This summer, camp is virtual.
Dinosaur Camp
Kids love dinosaurs, so they'll obviously love this paleontology camp that features activities like Dino Building, Dino Art, and Dino Sports. What the hell are Dino Sports, you ask? Not sure here, either, but as long as the dinosaurs at this park haven't been reanimated by an eccentric billionaire, they're probably safe. JurassiCamp is held in locations throughout Miami and Boca Raton, and offers both in-person and virtual options.
Maker Camp
Kids embrace the maker movement at camps like Gever Tulley's Tinkering School and Nuts, Bolts & Thingamajigs, sponsored by the Fabricators & Manufacturers Association. The idea is simple: don't wait for the Amazon drone to drop the fun at your doorstep — just go make it. The NBT camps incorporate technical elements like CAD design and manufacturing machinery operation, while the Tinkering School simply wants kids to make something huge, whether that be a flower-delivering robot, 17-person pontoon, cardboard city, or Godzilla monster capable of destroying them all. Nuts, Botls & Thingamajigs has locations all over the country, and the Tinkering School offers both day and overnight camps in the Bay area, as well as virtual camps
Nuts, Bolts & ThingamajigsTinkering School
Marine Biology Camp
Middle Schoolers enrolled in the Broad Reach Intro to Marine Biology camp spend a week and a half living on a sailboat in the Caribbean learning how to scuba dive. If that doesn't sell you, they'll take excursions to the beaches of St. Barths, have the opportunity to get scuba dive certified in St. Martin, see coral reefs and sea turtles first hand, learn about ocean health, and cook, clean and work together to make life on the boat go smoothly. Other programs include rainforest and reefs in Central America and veterinary and wildlife care in the Bahamas.
Acting Camp
For theater kids seeking a comfortable camp experience catered to their love of singing, dancing, and acting, it's hard to think of a better place to be than Stagedoor Manor. Over the course of a three-week session, campers at Stagedoor Manor take six classes, ranging from acting to dance, stage combat, and vocal training, while rehearsing for the big show put on at the end of every session. Held in a former luxury hotel, Stagedoor Manor provides a less rustic experience than your average sleepaway camp. And with alum like Natalie Portman, Mandy Moore, and Beanie Feldstein, there's reason to believe Stagedoor Manor will prepare your kid for the big screen.
Camp True Colors
At Camp True Colors in Willow River, Minnesota, campers engage in all the usual activities, like swimming, arts and crafts, archery, canoeing, hiking, drama, sports, and ropes courses. What sets it apart is that Camp True Colors is designed specifically for kids who identify as LGBTQ+. Campers get the opportunity to connect with kids like them, showing them the expansive world that exists outside of their school and home life. Tuition is based on income and need, and there's an option for family camp too, where parents or caregivers come along.
Rock Camp
Need a break from hearing your kid practice their drums? School of Rock offers both in-person and virtual music camps for kids of all ages and abilities, covering dozens of instruments and genres. Beginners can learn the basics of playing the guitar or writing a song, while more seasoned students can immerse themselves in a specific genre or time period like "best of the 90s" or "pop punk" camp. Camp sessions are one week long, and are offered to everyone age three and up.
Cullinary Camp
Sur la Table may be better known for their upscale kitchenware, but they also provide opportunities for chefs-to-be to refine their skills (and palettes) through their summer cooking class series. The collection of 5-day workshops includes Cooking 101, Restaurant Week, and Global Street Food. Students learn knife skills, baking, grilling sauteeing, and more through select recipes, including pineapple and lime sorbet, homemade pasta, Korean chicken, Vegetable samosas, and something called basil foam. Classes are limited to eight students, either ages 7-11 or 12-17, and everyone gets a free apron.
This article was originally published on