15 Kid's Movies to Get Excited About in 2018
Including 'Mary Poppins Returns,' 'Incredibles 2,' and 'Peter Rabbit.'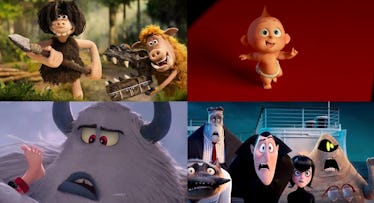 Say what you will about the year as a whole but 2017 was a great year for kid's movies. Pixar released the emotionally resonant and visually stunning Coco, the studio's best movie since Toy Story 3. The LEGO Batman Movie was simultaneously one of the funniest movies of the year and one of the best superhero movies of the year. Beauty and the Beast grossed an astounding $504 million at the box office, making it the year's highest-earning film (at least until The Last Jedi passes it next weekend). As we look ahead to 2018, the trend appears to continue. From anticipated sequels to new franchises, here are 15 kid's movies you should be excited to see with your kids.
Paddington 2
The original Paddington movie surprised audiences and critics alike when it turned out to be one of the best film adaptations of a kid's book in recent memory. Audiences and critics adored it: the film had a 98 percent fresh rating on Rotten Tomatoes. To the surprise of no one, a sequel is hitting U.S. theaters in January and there's no reason to think Paddington 2 won't have all the humor and heart of the first film.
Studio: StudioCanal
Release Date: January 12
Early Man
Nick Park is the man responsible for the wonderfully wacky world of Wallace & Gromit and he's back as director and co-writer of Early Man, which tells the story of Dug (Eddie Redmayne), a prehistoric man who is forced to band his tribe together to keep the evil Lord Nooth (Tom Hiddleston) and his Bronze Age City from sending them to an early extinction.
Studio: StudioCanal
Release Date: January 26
Arctic Justice
No Trailer Yet
Swifty is just an ordinary arctic fox who works in the mail room of the Arctic Blast Delivery Service when one day he uncovers a sinister plot masterminded by the evil Otto Von Walrus to melt the polar caps. Combine this transcendentally nonsensical plot with an intriguing voice cast (which includes James Franco and Jeremy Renner) and you have a kid's movie that, at the very least, will be anything but boring.
Studio: Open Roads Films
Release Date: January 26
Peter Rabbit
Beatrix Potter's classic book finally comes to the big screen in this animated film starring James Corden, Daisy Ridley, Domhnall Gleeson, and a buffet of other great British actors. The first trailer seemed a bit too hip and cheeky for its own good but there's still more than enough talent attached to the beloved story to make it a hit.
Studio: Sony Pictures
Release Date: February 9
Monster Family
No Trailer Yet
When the Wishbone Family find themselves in a bit of a funk, mom plans a fun night out to help them reconnect. Unfortunately, the road to destruction is paved with good intentions and an evil witch's spell turns them all into monsters.
Studio: United Entertainment
Release Date: February 9
A Wrinkle In Time
Based on Madeleine L'Engle's 1962 science fantasy novel, A Wrinkle in Time tells the story of a girl named Meg who, after receiving the help of three cosmic beings, is forced to go to space with her brother and friend to find her missing scientist father. The cast features Reese Witherspoon, Chris Pine, Mindy Kaling, and Oprah and is helmed by Selma Producer Ava DuVernay.
Studio: Walt Disney Pictures
Release Date: March 9
The Incredibles 2
It's a bit of a bummer that, after a nearly 14-year wait, this latest installment of The Incredibles takes place directly after the original. But that's just us picking some nits: the return of the superhero family should, by all evidence, be great, as it is said to have the same action, humor, and family dynamics, as well as a lot of superpowered infant hijinks in the form of baby Jack-Jack.
Studio: Pixar Animation Studios
Release Date: June 15
Hotel Transylvania 3
The Hotel Transylvania franchise may not get much respect from critics but they are outrageously goofy and genuinely fun movies with enough jokes for parents to enjoy, too.
Studio: Sony Pictures
Release Date: July 13
Teen Titans Go! to the Movies
No Trailer Yet
Based on the incredibly popular and long-running Cartoon Network show (2003 episodes!), this animated film marks the first time teen versions of Beast Boy, Cyborg, Raven, Robin, and Starfire make their way to the big screen. The TV voice cast will be featured, as will Kristen Bell and Fatherly favorite Will Arnett.
Studio: Warner Bros.
Release Date: July 27
Smallfoot
We've all heard the legend of the Yeti but have Yetis heard the legend of the human? Channing Tatum stars as a Yeti named Migo who makes the startling discovery that humans really do exist and are forced to come to terms with that. In the trailer, Migo describes his terrifying interaction with a human to the other Yetis, noting their perfectly white teeth, minty-fresh breath, and, tiny feet.
Studio: Warner Bros.
Release Date: September 28
The Jungle Book
You're probably thinking, 'Didn't I just watch a live-action version of The Jungle Book?' You would be correct. This new film is expected to hit theaters only two years after the widely-loved Disney version but there is still a lot to be excited about for this new version. Christian Bale, Benedict Cumberbatch, Cate Blanchett, and Freida Pinto are all attached to the movie which will be directed by motion-capture genius Andy Serkis, who will be playing Baloo.
Studio: Warner Bros.
Release Date: October 19
Ralph Breaks the Internet: Wreck-It Ralph 2
The original Wreck-It Ralph, which saw a John C. Reilly-voiced video game character change his path in life, does not get the attention and respect it deserves. It is one of the funniest and most imaginative animated movies of the 21st century. Now everyone's favorite villain with a heart of gold is returning to the big screen and will be forced out of the arcade and into the internet to save the day.
Studio: Disney Animation Studios
Release Date: November 21
Mary Poppins Returns
Making a sequel to such a beloved may seem blasphemous (and an obvious cash grab) but this movie's stacked pedigree has us optimistic. The criminally underrated Emily Blunt will be playing Poppins this time and she will be joined by Ben Wishaw, Meryl Streep, Colin Firth, Dick Van Dyke, and Lin-Manuel Miranda, who is also writing the music for the movie.
Studio: Walt Disney Pictures
Release Date: December 25
Cruella
As its name suggests, this film provides a look at the black and white haired villain from 101 Dalmations to explore why she became such a dogicidal maniac. Whatever happens, we're excited: Cruella is expected to be played by none other than Oscar winner Emma Stone.
Studio: Walt Disney Pictures
Release Date: Not Yet Announced
Disenchanted
Was anybody asking for a sequel to Enchanted, the movie that brought us naive Princess Amy Adams? Eh, probably not. But it sounds promising: The film takes place 10 years after Giselle escaped her animated life to find love and she begins to wonder if she's really as happy as she's expected to be.
Studio: Walt Disney Pictures
Release Date: Not Yet Announced