The 15 Best Netflix Kids' Shows
Shows for toddlers, tweens, and everyone in between blend good clean fun with messages parents can get behind.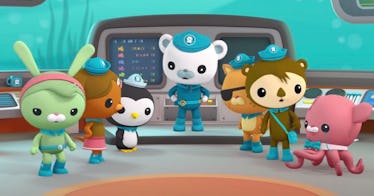 Credit: Netflix
Navigating Netflix's ever-expanding television library is hard enough when you're looking for something to watch yourself, but it's even harder to find the kid shows that are right for your little one. The best kids' shows on Netflix (or anywhere else) are simultaneously easy-to-understand and thought-provoking. And while the Netflix Kids interface is useful, it doesn't make it easier for parents to know if their kid is more into "race against time" cartoons or "coming-of-age animal tales," two of Netflix's many hyper-specific categories that don't mean much to toddlers or kindergarteners.
That's why it's up to you to find a great Netflix series for your kids. A great children's show (on Netflix or elsewhere) is entertaining, sure, but it's also intellectually nutritional. Kids are sponges, and every content interaction is an opportunity to expand their understanding of the world. Because there is so much drek out there designed to sell branded pieces of plastic, sniffing out integrity can be challenging.
We sifted through reams of kids' titles on the world's most popular streaming platform to bring you, in age-appropriate order, the best kid's shows on Netflix, arranged in order of target audience from three-year-olds to tweens.
Imagine a kind of mash-up between Star Trek and The Life Aquatic, but sub-in talking animals. That would be the brave crew of the Octopod, an underwater mobile station crewed by the Octonauts; talking animals that love to learn about sea creatures and rescue them from danger. Octonauts is nice because, unlike so many kids' shows, there is no emotional or moral lesson being taught. Adventure comes first, and ocean education comes second.
One of the newer addition to Netflix, Gabby's Dollhouse presents a world where a real girl (Gabby) can shrink herself down and enter her own dollhouse. Here's the rub, all the dolls are cat-dolls. So, even you're not a cat person, you will be soon!
In what might be the longest gestating toy-to-screen adaptation since the Ouija Board, the iconic Colorforms toys that debuted in the early '50s and developed into a toy category all their own have inspired Charlie's Colorforms City, a show geared towards early childhood development with a refreshingly organic integration of the classic vinyl clingers. Charlie, cleverly depicted as an anthropomorphized Colorforms logo, is a boy solves life's little problems by slapping the interchangeable shapes together to build what he needs. Whether that's a rocket ship to deliver his birthday invitations or a rainbow-colored afro to make a baby giggle, Charlie teaches us a little brainstorming and a lot of imagination can solve a lot of problems.
While a ton of children's programming is connected to social-emotional themes (read: Daniel Tiger) the brilliance of Ask the StoryBots is that it's rooted in curiosity about the real world. Children ask questions like "what is gravity?" or "what is DNA?" and the StoryBots answer those questions. The creators of the series set out to make a show that they themselves would want to watch with their kids. And, the efforts hows. StoryBots is fun, funny and smart.
Picking up where the Disney Channel movie left off, Sofia the First follows a courageous and determined young girl who recently discovered she's royalty. While describing it as The Princess Diaries for toddlers wouldn't be inaccurate, it would shortchange this affirmative, character-building show. Sophia learns and relearns that being a princess means caring for others, living by principles, and taking responsibility. The show also serves as a healthy gateway drug to other Disney darlings via cute cameos by a who's who of princesses. Jasmine, Cinderella, Ariel, Belle and Aurora, whose movies may still be too mature for your little one, all make an appearance.
When The Magic School Bus first rolled through the grey box in our living room 25 years ago to the sweet sounds of Little Richard's opening theme song, we exalted at the highlight of our elementary school storytime coming to life. Now you can relive the magic with your own kids and the Friz's little sister Fiona at the wheel, voiced by Kate McKinnon. Everything special about the original is still intact, with delightful guest stars and zany field trips through the microscopic, galactic, Cretaceous, and oft-overlooked parts of our time-space continuum providing a solid STEM overview for any age group. Plus, this time around Lin-Manuel Miranda serenades us through the opening titles. Seat belts, everyone!
Reminding us that British accents will always be more elegant and easier on the ears than Americans, Free Rein transplants the high-spirited Zoe, one of television's strongest teenage role-models, from Los Angeles to the coast of England on a visit to her mother's ranch for the summer. In a nod to The Horse Whisperer, Zoe demonstrates the importance of heartfelt communication as she bonds with her majestic new steed Raven and grows closer with mom and grandpappy. Now in its third season, the show teaches us that spending time with parents and extended family can actually be enjoyable. It's a double win if your kid is a horse lover, as there's plenty of posh equine action to hold them over between the drama and class issues thrown at Zoe.
Simply put, Brainchild is part of the Bill Nye, 3-2-1 Contact tradition of great science shows for kids. An energetic young host walks us through the fundamental but no less fascinating building blocks of scientific thought using SNL-style sets, CGI, her magician friend and a puppet that took a wrong turn off Sesame Street. While the show places brain-racking questions we've all asked but have no answers to front and center (just how big is the universe?), the best thing about Brainchild might be in its subtext. Two out of the three co-hosts are young ladies and many of the scientific explorations veer into personal factors like self-esteem and positive identity that are so important to the tween set.
Project Mc2is a stereotype-busting, STEM-boosting series that's best summed up with a pilot-episode exchange describing its leading lady: "McKayla, that girl is definitely IAWATST" "Yeah, she is interesting and weird at the same time…" McKayla and her three teen girlfriends, each whizzes in their respective fields of physics, programming, and chemistry, are recruited by NOV8—that's pronounced "innovate"—a shadow organization of all-female secret agents. In this campy but self-aware show, it turns out girls really do run the world, and they're charged with protecting it using their creative brains. It's a needed message for any young lady finding her place in all this while trying to enjoy the ride.
Based on an iconic British book series of the same name, and starring awkward Mildred Hubble, the action takes place in a boarding school complete with broom flights, and mischief. Student-professor tensions didn't hurt its appeal. The Worst Witch is a lighthearted adventure soap set in Cackle Academy that'll give schoolchildren with a flair for the occult a colorful mix of fringe role models and grand setpieces. As the show's budding witches grasp at their newfound powers and navigate the complexities of pre-teen life, your kids will laugh and cry alongside Mildred's missteps.
Since 2002, the Who Was…? book series has effectively chronicled the life of every notable historical figure and their oversized head for students across the country whose elementary schools must have blocked phone reception. The television adaptation goes above and beyond Wikipedia, retaining the educational and celebratory vibe of the books but departing in deliciously campy ways. Part sketch show, part animated musical, the show has assembled an impressive roster of bright young performers who leave plenty of room to poke fun at the personalities behind their bulbous effigy while framing their historical achievements in straightforward, and pretty darn catchy tunes.
Nailed It! is a second-wave reality show that teaches kids (and adults for that matter) to laugh in the face of failure by pitting amateur bakers against one another in an attempt to recreate dazzling confectionary under a ticking clock. The results are horrific desserts that resemble a Salvador Dali painting more than a cake you'd ever want to eat, but the hosts and contestants are all in on the joke, which relieves the pressure and demonstrates the fun inherent to any creative endeavor. It's a very popular title, and localized versions from around the world are also available on Netflix.
Piggybacking on the guilty pleasure of hate-watching mindless reality shows is Total Drama, an animated series of faux competition shows that nails the absurd trials and cringeworthy personalities that make it onto and are ultimately voted off these programs. Older kids whom you've regrettably allowed to watch reality TV will appreciate the concept, otherwise, the jokes might go over their heads. While it's hard to make a compelling case for Total Drama as educational or values-oriented in any overt or earnest way, its power as a safe and savvy introduction to satire for the sophisticated little one with an edgier sensibility is unmatched.
So your kid is a hair too young for Stranger Things, way too young for Hunger Games and out of the goodness of your heart, you'll spare them the 90-hour tease that is Lost. You'll find a smart, animated combination of all these things in The Hollow, a series that plays with genre conventions and follows Kai, Mira and Adam once they wake up in a bizarre and dangerous world. Everything in it seems to want them dead in the strangest ways and may or may not even be real. The trio is forced to solve difficult puzzles that test their character, wits and stamina for a chance at survival and encounter peculiar characters like the "Weird Guy" and a talking tree, who guide them and the first season towards a smarter conclusion than you may expect.
This somewhat macabre adaptation of the beloved book series and movie is best viewed together with your older kids. A Series of Unfortunate Events tackles death, determination, and happiness in a highly stylized, sophisticated production that offers a visual feast with downright impressive performances and the layered mystery of the Baudelaire orphans' family history that unfolds patiently in step with its complex characters. Neil Patrick Harris steals the show as the miserly and conniving Count Olaf, and the black comedy peppered into its adult themes allows it to serve as a lesson on keeping perspective in the most trying of circumstances.
This article was originally published on