Watch the Most Perfect 2000s Rom-Com Before It Leaves HBO Max This Week
This movie will make you feel old, but in a good way?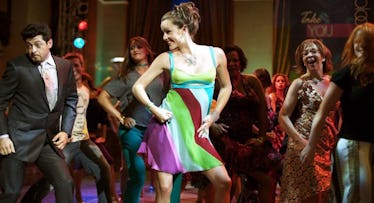 Credit: Sony
If Jennifer Garner never makes another movie, she's already secured her place in the hearts and minds of people who love family-friendly romantic comedies. 13 Going on 30 is a candy-colored gem of a movie: sweet, funny, charm to spare, great music, with a fantasy twist and a perfect cast, right down to the younger versions of the main characters.
Garner's tour de force, 13 Going on 30 is currently streaming on HBO Max, but it'll flit away like so much wishing dust on February 28. We're here to convince you to watch it again before it leaves. And so, here are just a few reasons to stream this timeless early 2000s rom-com right now.
Jennifer Garner Back when 13 Going on 30 opened in 2004, Garner was wowing audiences week after week with her performance as superspy Sydney Bristow on Alias. Bristow slipped into different guises every episode, adopting assorted accents and demeanors, and sporting a variety of wigs. Jenna Rink came out of nowhere, a relatable breath of fresh air with a bright smile, wide eyes, a contagious laugh, tinges of regret, and heartbreaking tears. Garner finds the adolescent in the woman and the woman in the adolescent, but turns on the funny, as well, when she's dodging modern-day Jenna's randy boyfriend or hitting on a boy… who's still a boy – and jailbait. And in every single scene, Garner complements the work of her fellow actors. It's a remarkably unselfish, winsome, and effervescent performance. The Supporting CastGarner is in basically every scene of 13 Going on 30, and she's backed by a supporting cast that's loaded with talent… and future talent. Mark Ruffalo, who is actually the male lead versus a supporting player, is wonderful as Matty, who's a bit down about life and confused by Jenna's reentry into his orbit, but always a gentleman and utterly enchanted by the second chance he just might have with the love of his life. Judy Greer is deliciously hiss-worthy as Jenna's frenemy, Tom-Tom. Marcia DeBonis scores as Jenna's put-upon assistant, who can't help but like the new and improved Jenna. Andy Serkis, who really can do it all – remember, he's Gollum, King Kong, and Snoke, and directed Venom: Let There Be Carnage – steals the show as Jenna's frantic, frustrated boss, Richard. Kathy Baker is endearing as Jenna's forgiving mom; try not to cry during their mother-daughter heart-to-heart. And kudos to Christa B. Allen, Sean Marquette, and Alexandra Kyle, who nail their turns as the younger versions of Jenna, Matty, and Tom-Tom. Also in the cast as a couple of nasty "Six Chicks" are the very young Brie Larson and Ashley Benson. The MusicThe songs in 13 Going on 30 flawlessly evoke 1987 – and the longing for that music and that period. Just some of the songs heard in the movie include Jessie's Girl, Burning Down the House, Ice Ice Baby, Crazy for You, I Wanna Dance with Somebody (cue the transformation montage!), and Tainted Love. And let's not forget the Billy Joel classic, Vienna, which plays over Jenna's poignant train ride home to her parents' house; Thriller, which Jenna asks a DJ to play to liven up a party, leading to one of the film's best scenes; and Love Is a Battlefield, which Jenna blasts during a dance party/sleepover that lets her be a kid again and a cool adult at the same time. Also, props to composer Theodore Shapiro for his score, which heightens the comedy, romance, fantasy, and the drama without ever overpowering the proceedings.The NostalgiaHere's the fascinating thing about 13 Going on 30: Back in 2004, the movie made us nostalgic for 1987. Now, it's 2022, and we're all nostalgic for 1987 and 2004. The plot pivots on the fate of a magazine. A magazine! Michael Jackson was still alive. Jenna's Thriller dress is so retro-cool that Ariana Grande set the Internet on fire when she wore one just like it on The Voice last year. Cars that were state of the art in 2004 look like antiques now. Fans swoon every time Garner and Ruffalo and Greer react to each other's social media posts or reunite. Christa B. Allen, who played young Jenna, turned 30 herself in November and celebrated the occasion with a series of 13 Going on 30-themed TikTok videos. Garner even sent her a birthday video. And don't you just want to munch on a bunch of Razzles and then blow bubbles for the five minutes that they morph into a chewable wad of gum? Of course, you do. And if you don't, please send me your Razzles. No SequelHollywood way too often ruins a good thing by serving up bad sequels and lame reboots. Right now, it seems that neither horrible fate awaits 13 Going on 30. And thank God for that. Back in 2019, Good Morning America asked Garner about a possible sequel. Her reply: "What? Like, 15 Going on 50?" she said. "Let's simmer down, and then let's leave well enough alone." Amen. Or, as Richard would say, applauding wildly, "Bravo!"13 Going on 30 is streaming on HBO Max until Feb. 28.
This article was originally published on