10 YouTube Channels Safe For Young Kids
As inappropriate videos continue to populate YouTube Kids, it's harder to find safe zones. There 10 channels provide just that.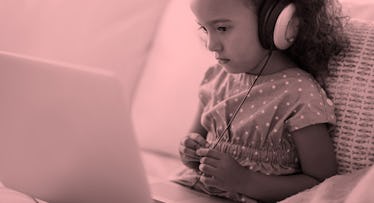 YouTube Kids is flooded with inappropriate content. The videos, purportedly pushed out by content farms who value profit over kid's wellbeings, feature innocent characters such as Peppa Pig, Elsa from Frozen, and Spiderman taking part in not so innocent acts. The videos are unsanctioned, disturbing, and masquerade as kid-friendly. Their appearance means that via autoplay or your kid's sheer curiosity, anything can appear on their screen.
So, if you're worried about your young kid coming across content that may be unsavory, a good move is to guide them to channels, not some random video game-of-chance. As such, here's a collection of channels and resources that feature 100 percent safe content for kids. Some are educational, others are simply entertaining. All will prevent young kids from encountering anything unsavory.
READ MORE: The Fatherly Guide to Keeping Kids Safe Online
The Actual, Official Channel of Peppa Pig
A lot of the Youtube Kids controversy has been surrounding the use of licensed properties (like Peppa Pig) for sinister content. Poor Peppa didn't ask for this. And, as your kid also probably still adores Peppa, the Peppa Pig Official Channel is the place to be.
This Common Sense media-approved channel features nursery rhymes, fun songs, cute animation, and (100 percent appropriate) finger family videos, all of which have no hidden surprises
Not dissimilar to Mother Goose, this channel is a great resource for simple nursery rhymes and animated song videos for kids. It's a sing-along destination.
The acclaimed Zoo's Youtube channel is the go-to place for animal videos, all of which appropriate for kids of any age. Some of the latest and greatest videos include compilations of wolf puppies playing around, a pumpkin-eating Halloween celebration for some old tortoises, and, of course, plenty of panda videos.
Kid's learning is a non-branded educational channel that helps young kids learn how to count. The simple, straightforward videos use colorful orbs, gumdrops, and lollipops to help kids learn the basics of counting. It may also make kids want candy.
There's nothing educational about Monster Jam. There may not even be anything culturally valuable about it. But it's really, really fun. What's not to love about enormous trucks jumping dirt mounds and performing flips?
The Beatles are as kid-friendly as they come. Their videos are colorful, their voices are relaxing, and they don't ever swear. They're also, you know, pretty good at music so you won't want to stuff cotton balls into your ears after the umpteenth listen.
If the Beatles are the positive good of the Youtube channel music world, then Little Baby Bum is the chaotic neutral. These songs will probably drive you insane, but your kid will love them, and there are cute animations to boot. The channel boasts 45-minute videos of songs that begins with eponymous childhood songs like "Wheels on the Bus" and go from there. It's wholesome as hell but there's nothing wrong with the classics.
The official channel of Kermit and company offers a fun collection of classic clips as well as regularly updated features from new characters. All of the videos as safe and silly as you've come to expect from the wiggly-armed creatures.
Technically, this isn't a Youtube channel. It's a Reddit forum where people who are concerned about the 'autofollow' function on Youtube can handpick kid-appropriate videos and share them with other parents. There you can sort through the options and create your own Youtube playlists of videos you deem appropriate.
This article was originally published on