The 10 Best Viral Kid Videos of the Last 10 Years
How many of these iconic moments do you remember?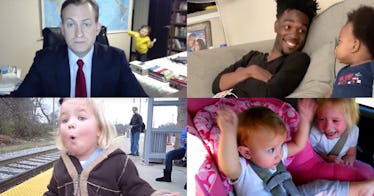 It's no secret that the internet can be a dark place, with every website and social media platform seemingly overrun with trolls, reply guys, and, worst of all, influencers. But while online often feeling like an overwhelmingly toxic experience, there is one thing that brings out the wholesome side of even the most jaded and cynical commenter: videos of kids being adorable. And with the decade coming to an end, we decided to round up 10 of our favorite viral kid videos from the last 10 years. So take a break from arguing about whether or not the Mandolorian is actually a good bounty hunter and enjoy a few moments of children being adorable as hell.
Little Girl Waits for Train (2011)
Often times the best viral videos are the simplest, like this video of a little girl named Madeline getting very excited watching a train approaching. It's one of those videos that you want to watch over and over again because her enthusiasm is so damn charming.
Sophia Grace and Rosie Sing "Super Bass" (2011)
There is no shortage of videos on the internet of kids singing to songs they love but Sophia Grace and Rosie managed to go viral with their hilarious and impassioned cover of Nicki Minaj's popular song. While Sophia Grace belts out nearly every word, Rosie barely knows a word and is just sort of dancing along. The video got so popular the two even ended up on Ellen and got to meet Minaj.
Ping Pong Baby (2012)
While most toddlers would struggle just to hold a ping pong paddle, Jamie briefly took over the internet by showing off his killer swing. We can only imagine how good he must be with another seven years of practicing under his belt.
Kid Gets Caught Eating Sprinkles (2013)
Some kids are fantastic liars. Others, not so much. Take John, for example. When his mom asks him if he had eaten sprinkles, he tries to deny it but unfortunately, he forgot to check if he still had sprinkles on his face. It's a moment every parent has experienced and it's hard to get too angry when the culprit is this adorable.
Baby Loves "Gangnam Style" (2013)
Remember how big "Gangnam Style" was? Honestly, it was pretty annoying but the best thing to come out of it was this video of a little girl waking up and losing her fucking mind when the hit song starts playing.
"Apparently" Kid (2014)
With one word, Noah Ritter managed to become one of the viral stars of 2014, as his repeated, emphasized use of "apparently" during a local TV interview was delightfully precocious.
Toddler and Dog Are Excited Dad Is Home (2015)
No real explanation needed here, a toddler and dog lose their collective shit when dad comes home and it is guaranteed to melt your heart.
BBC Dad (2017)
Perhaps the defining viral moment of the decade was also an extremely relatable moment of parenting, as Robert Kelly's BBC interview was gloriously disrupted when his two children barged in, followed by his wife, Kim Jung-A, who tries to get them out of the room as quickly as possible. The most impressive part? Kelly handles the entire thing without missing a beat Kim is able to clear out the room in a matter of seconds. Well done, mom and dad.
Girl Parodies Childish Gambino to Sell Girl Scout Cookies (2018)
When Seymore Harrison and his six-year-old daughter Charity came up with the idea to create a song parody video of Childish Gambino's "Redbone" to help her sell Girl Scout cookies, they never imagined it would go viral. It did and as a result, they sold a ton of cookies and met Donald Glover (aka Childish Gambino).
Gibberish Conversation Between Father and Son (2019)
As kids learn to talk, they inevitably speak a lot of gibberish. But one dad proved to apparently be fluent in baby talk, as he is seemingly able to hold a conversation with his son despite his son not speaking in any official language. It is so damn cute and has racked up more than 60 million views.
This article was originally published on