The 10 Best Urban Parks in the United States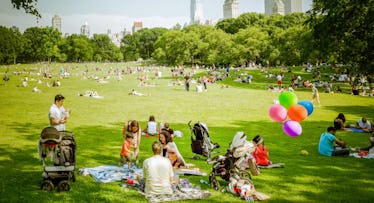 <a href="https://www.flickr.com/photos/ep_jhu/9192698634/" target="_blank"> flickr / ep_jhu </a>
Balboa Park (San Diego, CA)
One of the crown jewels of America's finest city, Balboa Park is massive. It covers over 1,200 acres and is just a short drive from the downtown area. The amount you can do at Balboa Park is mind blowing, as it features 15 museums, several amazing gardens, and even the world-famous San Diego Zoo. Families can enjoy hours of fun before ending the day with a performance of the Old Globe Theatre, one of the most famous theaters in the country that is located in the heart of Balboa Park.
Grant Park (Chicago, IL)
The "Front Yard" of Chicago features gardens, museums, the legendary Buckingham Fountain, and even an aquarium. The 319-acre park sits right next to Lake Michigan and is home to Lollapalooza, which is one of the biggest music festivals in the world. Grant Park is one of America's oldest city parks, but its commitment to progress has made it feel as relevant as ever.
Discovery Green (Houston, TX)
Discovery Green covers less than 12 acres, but it makes the most of its limited space. Along with the Jones Lawn, a two-acre lawn that offers a beautiful view of the city's skyline, it also features two gorgeous gardens, a putting green to get your kid ready for their future Masters' title, and the Anheuser-Busch Stage, a venue that is home to concerts and other events families will love. This Houston park is perfect for an inexpensive day of fun and relaxation.
Falls Park (Sioux Falls, SD)
South Dakota may not be the first state that comes to mind when it comes to beautiful sites, but Falls Park is secretly one of the best-looking spots in the country. While other city parks have lakes and ponds that are nice, Falls Park has a humongous waterfall that runs right down the middle of the park. Getting to view this majesty while also seeing the Sioux Falls' skyline in the background is a one-of-a-kind experience, and if that isn't enough, there is also the historic seven-story Queen Bee Mill built in 1881.
Forest Park (St. Louis, MO)
When it comes to history, no urban park can compete with Forest Park. Almost 150 years old, the huge St. Louis park was the host of the 1904 World Fair and several summer Olympic events that same year. It attracts over 12 million visitors each year, and it's not hard to see why. It has museums, gardens, a nine-hole golf course, a skating rink, plus a ton of other awesome stuff. Simply put, there is no shortage of kickass family activities at Forest Park.
Cal Anderson Park (Seattle, WA)
The Pacific Northwest is known for its breathtaking nature, so it's no surprise that one of the most beautiful city parks is located in Seattle. The park is simpler than most but it doesn't really matter when a park is filled with so much beauty. Families can enjoy the nature for hours, and let the kids have fun playing a game of oversized chess.
Myriad Botanical Gardens (Oklahoma City, OK)
The Myriad Botanical Gardens may lack the pure amount of activities that can be found at other urban parks, but it more than makes up for that with the amount of breathtaking nature. The 17-acre park features gorgeous gardens as far as the eye can see, and at the center of this is the Crystal Bridge, which features over 750 different types of plants from all over the country. For a family looking to find an escape from city living, Myriad Botanical Gardens offers a nature-filled sanctuary that is guaranteed to bring peace of mind.
Griffith Park (Los Angeles, CA)
While may other parks on this list are big, none are on the level of this 4,300-acre behemoth that is home to the iconic Hollywood Sign. The park obviously has tons of fantastic attractions like horseback riding and miles of hiking trails, but the main feature has to be the Griffith Observatory, and not just because of its recent cameo in La La Land. The observatory offers a breathtaking view of the city and a telescope that allows visitors to get a view of everything floating above us.
New Orleans City Park (New Orleans, LA)
This City Park is every bit as lively and fun as the city it calls home, and there is no shortage of awesome as hell things for a family to do here. It has the standard gardens and lawns, but also has a 5,000-seat stadium where the New Orleans Jesters (MLS) play, horse stables, and the Carousel Gardens Amusement Park which feature a mini-train, a roller coaster, and one of the last antique wooden carousels in the country. The park is still regaining its full form after it suffered substantial damage during Hurricane Katrina, but even in rebuilding mode, it is one of the coolest parks in America.
Central Park (New York, NY)
It's legendary for good reason, as this park located in the heart of Manhattan attracts an estimated 43 million visitors each year. The park has just about everything anyone could ask for, including an ice skating rink, a zoo, and the Met. Central Park is smaller than several other parks on the list, but it feels like the biggest due to how much beauty and fun it fits into every inch of its 778 acres.