The 10 Best Children's Picture Books Of The Last 10 Years
It's been a good decade for picture books. Here's the best ones your kids will still love for years to come.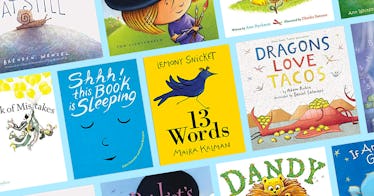 As 2019 comes to a close, looking back at the best children's books of the past 10 years isn't easy. But, then again, if you have a kid from the age of 1-year-old to roughly 1st grade, then you know what makes a good kids' book: It has to work. Instead of recapping the best kids' books from across multiple age-ranges, we decided to present the 10 best kids' picture books that, we personally know, that kids will sit for. To that end, we've included a few bedtime books in this list, because, let's face it, those are the ones that you rely on the most in the early years.
From philosophical birds to landscape obsessed lions, to strong words of empowerment, here the coziest, smartest and best children's books of the past decade.
13 Words (2010)
Bridget's Beret (2010)
Dragons Love Tacos (2012)
If Animals Kiss Goodnight (2014)
Shhh! This Book is Sleeping (2016)
Book of Mistakes (2017)
Goodnight Numbers (2017)
Dear Gir (2017)
A Stone Sat Still (2019)
Dandy (2019)
This article was originally published on