Nebraska's New Restrictions On Gender Affirming Care Will Hurt Kids
Nebraska's newest restrictions on gender-affirming care — and their endorsement of gender exploratory therapy, explained.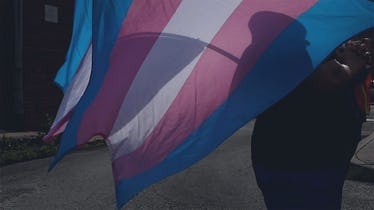 Kansas City Star/Tribune News Service/Getty Images
Earlier this month, the Nebraska State Health Department announced emergency regulations approved by Governor Jim Pillen that will severely limit the health care trans kids are able to receive in the state. Some two-dozen states have now passed new laws or changed public health policies that limit, or outright ban, access to gender-affirming care for trans youth.
According to the new mandates, which were put into effect by the state's chief medical officer, Dr. Timothy Tesmer, the same day they were made public, on October 1, there will now be a mandatory seven-day waiting period between a patient providing informed consent and receiving approval for a prescription for puberty blockers or hormone treatments. Trans youth will also be required to undergo 40 hours of "gender-identity focused" and "clinically neutral" therapy and live as their identified gender for six months before being considered for "any medical treatments meant to affirm their gender identities."
Gender-identity-focused therapy, also called gender-exploratory therapy or GET, is gaining ground in states where anti-trans policies are actively being passed into law. On the surface, the therapy may seem mundane, but opponents compare it to gay conversion therapy, which has been proven to be both ineffectual and deeply harmful.
Expert analysis from Slate noted that members of the Gender Exploratory Therapy Association (GETA) say that medical interventions for trans or gender-questioning youth — such as puberty blockers — "are experimental and should be avoided if possible." That same article notes that Stella O'Malley, a member of the GETA leadership team, wrote in a 2021 letter that "We do not believe puberty blockers are a safe and appropriate option."
In fact, puberty blockers are not experimental — they have been used for decades in children experiencing precocious puberty. A 2020 study found that trans people who wanted puberty blockers but did not receive them were "70% more likely to experience suicidal ideation in their lifetime than those who did receive it," Fatherly reported.
GET also runs contrary to the medical consensus — professional organizations including the American Academy of Pediatrics have stated that gender-affirming care is life-saving, necessary care.
Under the new regulations, parents or guardians will pick up medications from pharmacies that must be labeled as treatment for "gender dysphoria." The new law also bans surgical procedures for trans people 19 and younger. Families and trans advocates say they had little advance warning of the measures.
Emergency regulations of this sort are typically enacted to address public health crises like the COVID-19 pandemic and other disease outbreaks that affect a large number of people in the state. Nebraska's population is roughly 1.9 million, with an estimated 5,600 transgender individuals, both minors and adults, living in the state — roughly 0.29% of the state's population. The new mandate targets a vanishingly small minority, making life more difficult for a population that needs support and compassionate care.
Research continually finds that trans minors who begin gender-affirming care are satisfied with their transition, and only in exceedingly rare cases do they reverse that transition. Additionally, most institutions that prescribe gender-affirming medications follow guidelines from the World Professional Association for Transgender Health and the Endocrine Society, which does not recommend hormones for people younger than 16.
Taking away life-saving gender-affirming care — or making it more difficult than it already is to access — will have devastating consequences. Dozens of states have implemented or are considering implementing limits on youth access to gender-affirming care. More than 100 bills have been introduced to that effect in state legislatures across the country. 35% of transgender youth live in states that have passed bans on gender-affirming care, and in states that have care, waitlists are only growing, ABC News reports.
Trans adolescents who receive gender-affirming hormone therapy are less depressed and report less suicidal ideation compared to peers without treatment. Without care, or with harmful care, there are dire consequences. Trans youth are far more likely to attempt suicide when exposed to conversion therapies such as GET, than when they receive hormone treatment.
The new regulations will be in effect during a 90-day public comment period, after which a final draft of the resolution will be presented.