This Is The Recipe For A Healthy Parenting Style
New research lays it out. And the ingredients aren't all that complicated.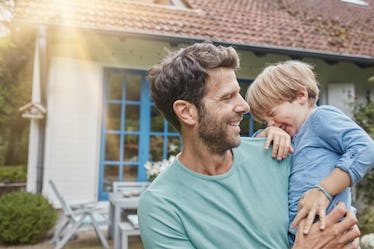 Getty/Westend61
Parenting styles are currently all the rage, and the herd of animal-themed subtypes just keeps growing. Tiger, elephant, dolphin, and even jellyfish styles are amongst those that have emerged in an attempt to help parents identify and evaluate their approach and give them a fresh perspective as to how their parenting style affects their kids.
It's not as though these styles are new, per se. But they function as an easy-to-remember repackaging of the authoritarian, authoritative, and permissive paradigms identified by psychologist Diana Baumrind in the 1960s, which psychologists still widely accepted today.
Baumrind's parenting style construct focuses on how demanding or structured parents are and their responsiveness to kids' needs. Authoritative parents who have reasonably high expectations for their kids while at the same time responding to their needs quickly and with warmth embody the best of both worlds. They tend to raise kids who feel appreciated, autonomous, and empowered and are more likely to become independent, motivated, and compassionate adults.
But even with a well-explained and time-tested construct for parenting styles, the question still remains as to what factors and characteristics contribute to healthy authoritative parenting. And researchers from the University of Bucharest recently published a study in Frontiers in Public Health that sheds light on how emotional intelligence, parental competence, self-esteem, and self-compassion inform how people parent.
Using a question-based survey to gather data from 610 respondents, the researchers determined that, as expected, emotional intelligence — the ability to manage your emotions and understand the emotions of people around you — is the underlying foundation for authoritative parenting.
"Parents with a high level of emotional intelligence demonstrate a high level of parental competence as a result of the specific emotional intelligence strategies they use in the parenting process," the study authors wrote. "The high level of emotional intelligence of parents is associated with the adoption of the authoritative parenting style that is in agreement with specific elements of this intelligence."
The study explained that parenting competency stemming from high emotional intelligence also requires a balance of self-esteem and self-compassion. Those traits, in tandem, allow parents to gain healthy confidence from positive experiences while preventing them from judging themselves too harshly when things go poorly. And whether it's occasionally losing patience with rowdy kids or forgetting to get them to soccer practice amidst a chaotic family schedule, parents have plenty of opportunities to practice self-compassion.