5 Lessons for My Daughter About Sex Positivity, Love, and Heartbreak
My daughter has her first boyfriend, and I honestly think it's great. Here's how I'm preparing her for sex and love.
by Chaz Thorne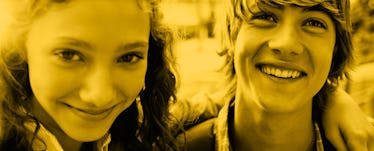 Dear Sweetheart,
So, you have your first "boyfriend," and I can already feel you cringing that I put that in quotes. I think it's great. Really. I promise I won't scare him or embarrass you when you introduce us…that much. Though I am staring at the baby picture of you I keep on my desk as I write this, I recognize this as one of many steps you'll take in your teen years as you cross that wobbly, swaying, terrifying rope bridge from childhood to adulthood. I consider it part of my job to not make that awkward transition any worse by getting all "dad" on you.
Your old man has been around the block a fair few times when it comes to romantic relationships and I was, after all, a teen myself many decades ago. So, bear with me while I drop some hard-won wisdom. I promise I'll keep it short and sweet. I know you want to get back to your phone.
Sex Positivity Is a Good Thing. Why not get the most awkward one out of the way first? Sex is a good thing. It can be done for the wrong reasons (because he wants to, to keep a relationship, out of obligation, etc.); at the wrong times (before you're mature enough to manage the emotions involved or understand the potential physical and emotional consequences); or with the wrong people (anyone who doesn't treat you with the utmost respect), but overall it's a good thing.
This story was submitted by a Fatherly reader. Opinions expressed in the story do not reflect the opinions of Fatherly as a publication. The fact that we're printing the story does, however, reflect a belief that it is an interesting and worthwhile read.
I have always tried to be very sex-positive in my discussions with you. Though you are definitely still too young, it's important to recognize that sex is a vital part of a healthy romantic life for an adult.
We'll come back to this one in a few years…. Just those two paragraphs exhausted me.
Heartbreak Sucks. I think I was 6 years old the first time a girl shattered my heart to pieces, and it was far from the only time. It happens to us all and it's the inevitable result of putting yourself out there and caring for another person deeply. Each and every heartbreak was painful and they got more intense as I got older, but it's a side effect of believing in love. Don't let fear of eventual pain stop you from committing to those that are worthy. You're heart doesn't actually break. You'll survive it.
Keep in mind that you've got the power to break the hearts of others, as well. Be kind.
There's No Such Thing As "The One." I have loved different women different amounts, for different amounts of time, and for different reasons. I can tell you with no hesitation whatsoever that there are always others out there. There are so many wonderful people in the world. This is one of those things that you have to experience to believe. Maybe once you're on your third or fourth "The One," you'll understand.
There's No Love Without Respect. A lot of people don't really understand what love is. They'll do horrible and sometimes outright abusive things to their significant others while insisting that they love them. I certainly hope you never have this experience, but I can guarantee you some of your friends will. You're an incredible human. Any person who doesn't encourage and support that isn't worthy of your time.
You Can Always Talk to Me About Anything. I know I'm your father and it may seem awkward to talk to me about this stuff, but just know that I'll be there for you when you need me. Always and forever. And I promise to just listen and only offer advice when asked. In the relationships you've seen me in since your mother and I split, I hope I've modeled the attributes of a good man for you. I haven't been perfect, but I've certainly tried.
Your own romantic journey will be filled with highs and lows, and, as your father, I have to fight back the instinct of wanting to protect you from the lows. In my own life, the highs were the most pleasant, of course, but I learned much more about myself from the lows. I look forward to watching how this part of your life propels you forward as a young woman.
Love,
Daddy
Chaz Thorne is the author of Single Dads Are Sexy, a guide for recently solo fathers, and parent to an awesome teen daughter.