What Sean McVay Gets Wrong About NFL Paid Leave
Babies wait for no work schedule.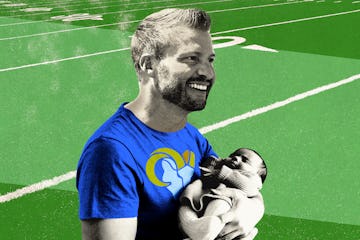 Emma Chao/Fatherly; Courtesy of Getty Images
In a recent interview with Fox News, ahead of a mid-October Sunday game against the Arizona Cardinals, Los Angeles Rams head coach Sean McVay made a bold statement. McVay told reporters that with his wife, Veronika, due "any day now" with their baby boy, he could possibly miss the game to be there with his wife if she goes into labor.
He also said he felt "fortunate that it's been a smooth pregnancy. My wife has been incredible and so, it hasn't quite hit me yet. He's active right now. It seems like he's ready to come at any moment. What a blessing that will be, and what an amazing job my wife Veronika has done in terms of just handling the pregnancy."
Just a few days later, McVay walked it back on an episode of the Coach McVay Show. "Man, that got blown out of proportion. I mean, I wasn't going to miss a game because we feel really good about everything coming according to plan," McVay said. "This guy knows better, man. The first thing, if you're going to be a disciplined little boy for us, you don't come during a game, all right? Everything is going great. Veronika's been awesome with this and we should be expecting him here in about a week or so. But we do not anticipate it conflicting with any Rams games so we can cut the questions or concerns about me missing a game. that's not going to happen."
But he could take the time off if he wanted to. Eligible NFL employees — of which Sean McVay, a coach, is one — have access to paid leave. Non-birthing parents get up to six weeks of paid time off for the birth of a child — that policy is actually growing to 8 weeks in 2024, per a press statement made to Fatherly from the Rams organization.
The situation points to a sticky reality: Richard Petts, a sociologist who specializes in research on parental leave, previously told Fatherly that the vast majority of dads do take some time off work when they have a child — over 80% of dads, actually. But it's usually less than a week. Petts also suggested that the pressure dads feel at work — whether internalized or actual — is the "huge, if not the top barrier" for men not taking more time away.
"Ideal worker norms are so ingrained in our society, and so closely linked with the norms of what a good father is, and norms of masculinity, that it's a huge barrier to fathers taking leave. I also think, generally speaking, taking paternity leave is just not normative in the United States. So even if workplaces were like, 'Yeah, go ahead,' it's still not typical," he said.
Indeed, a report previously released by the United States Department of Labor found that 90% of dads do take some time off after their babies are born, but of those dads, 70% take less than 10 days away from the job. The BBC also reported that, although paternity leave access has doubled in the past 20 years, and "at least four out of every 10 organizations" offer some form of paid leave about the minimum, "the proportion of men who take more than a few days off work when their child is born is tiny."
"Even in jest, it's disappointing that an expectant father feels compelled to walk back comments suggesting he'd need time to be at the birth of his first child," said Venicia Gray, senior manager for maternal and infant health for the National Partnership for Women & Families in a statement to Fatherly. "We believe fathers deserve and need paid leave to welcome a child and bond as a family. Coach McVay wouldn't be alone — California men file over 44% of claims for paid family leave to care for a new child. We hope he'll feel empowered to take the time he needs to support the newest addition to his family and partner."
The research also shows that dads taking paternity leave is just plain good for kids: research shows that dads who take paid leave have better relationships with their children, are closer to their wives in the aftermath of welcoming babies, there's reduced likelihood of postpartum depression in moms, and more.