Robert Irwin Bred A Rare Turtle — One With A Surprising Connection To His Dad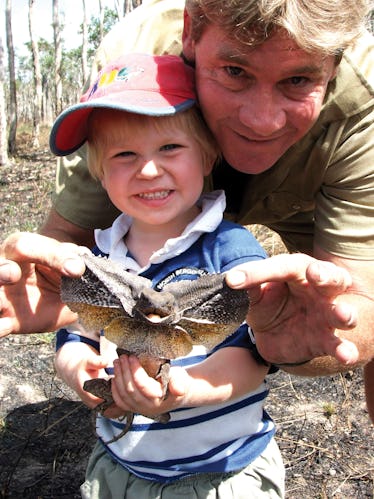 Handout/Getty Images Entertainment/Getty Images
On Saturday, October 16, Robert Irwin — the son of late, great wildlife advocate Steve Irwin and zookeeper and conservationist in his own right — shared on TikTok that he had achieved a professional milestone with deeply personal roots. That milestone? Irwin Jr. successfully helped hatch the first baby "Irwin's turtle," or Elseya irwini, the turtle species his own father discovered in the year before his death. Since its discovery in 1990, no zoo has yet to breed the species.
33 years ago, Robert's late dad found a female Irwin's turtle in the Burdekin River in southern Queensland, Australia, where the species is native to, per Australia's National Aquarium. The scientist who collected the turtle from him and conducted research on the newfound species named the species after Steve. Now, decades after the turtle was discovered by his father, the first-ever Irwin's turtle has been hatched in a zoo — anywhere in the world.
"This is one of the highlights of my entire life," Robert shares in the TikTok video, as he holds the baby Irwin's turtle, tiny and absolutely adorable in his hand. It's easy to believe.
"And one of the most special moments ever for Australia Zoo. This is the very first Elseya irwini, Irwin's turtle, ever hatched for any zoological facility anywhere in the world. This species is a turtle that dad originally discovered out in the wild, and for the first time we've got a little baby and right now, he's getting in his first swim at a brand new pond. This is a little slice of the wild."
Irwin then drops the baby turtle into the water, where we get to see it take its first swim in what must be deliciously mucky waters. The moment is wonderfully sweet — as is the cut in the video to how big the turtle will get once it reaches adulthood — but it's also deeply moving. Robert Irwin (and mom Terri and sister Bindi) are continuing a mission his father had in his life and this isn't lost on Robert. As he watches the baby turtle begin to swim, he's nearly moved to tears.
"It's just so surreal...All the stories from dad about how beautiful and amazing they are," he drifts off. "I don't get emotional that much," Robert says. "Dad'd be stoked on that, he added. "We did it," he said, fist-bumping someone off-camera next to him.
Congratulations to the Australia Zoo, Robert Irwin & the whole Irwin clan!