Professional Potty Trainers Make Bank Teaching Kids How To Poop
Tiny clients. Questionable output. Big profits.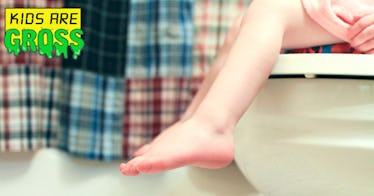 Most parents aren't going to spring for a professional potty-trainer. To justify the spend you have to be — among other things — wealthy. But many people have money and many of those moneyed people are looking for a way to fast-forward through a messy, difficult process. Samantha Allen, who incorporated NYC Potty Training in June 2014, offers exactly that. Allen says that her client list has grown steadily despite the fact that she charges between $3000 and $3300 for two-day consulting and advising stints and hundreds for text sessions.
Professional potty training services are nothing new. There's the Potty Training Academy in the UK (consider it the Oxford of poop schools), the traveling toilet consultant at Successful Potty Training, and the "Potty Whisperer," who has been running "booty camps" in Chicago for years. But with an undefeated record of training all of its toddling clients in under two days (and some in under two hours), NYC Potty Training stands out. Allen spoke with Fatherly about how she got her start in the potty training game, and how she rose to become a big fish in a tiny toilet.
How did you get your start in professional potty training?
I've been individualizing instruction for children with special needs for 15 years. I worked with children on all skills, including toilet training, and when families and classroom teachers saw that I was able to potty train kids in one day, they started referring other parents to me for help. I saw that so many people struggle with potty training and that support just wasn't out there for them.
How do people respond when you tell them you're a professional potty trainer?
Everyone was surprised, no one had heard of a professional potty trainer before I launched NYC Potty Training. Some balked at the concept—but more people asked where they could sign up!
Can you walk me through a day in the life of a professional potty trainer?
I typically spend seven to nine hours per day in a client's home. Parents can be as involved, or not, as they want in potty training sessions. There have been cases where I never even met the parents who worked long hours, or where a parent will be present for a part or parts of the session, or where one or both parents stay home from work to be involved. It's entirely up to the family.
What is the most challenging part of potty-training? What's the most common mistake parents make?
The most challenging part of potty training is probably working with parents who don't follow my advice, but by the end of a session I'm able to get everyone on board. The biggest mistake I see parents make is trying to implement a potty training method from a book with their individual child and misreading a child's resistance or accidents as lack of readiness.
What's the fastest you've ever trained a kid? What's the longest?
I've potty trained a number of kids who had been previously resistant to using the toilet within 1.5 hours, and I've potty trained many kids with no prior potty training exposure in three to five hours. The longest it's taken with my approach implemented is up to two days.
How much do you charge clients, and how many clients do you see per week?
Phone sessions, including an individualized one-to-two-day potty training plan plus continued phone and text messaging support…[costs] $600. A one-day in-home session is nine hours for $2000, and a two day in home session is 14 hours for $3000. I typically provide in-home potty training sessions four to six days a week and do multiple potty training phone consults each week.
What advice you have for parents struggling to potty train their kids? Stay calm throughout the process and find ways to potty train kids that don't make them feel pressured or forced while still setting clear expectations. Most importantly, remember there's nothing ever wrong with asking for help.
What would you say to parent who thinks they don't need a professional potty trainer?
There's never anything wrong with asking for help. Some people have other children that need their attention at home, and want an expert's guidance to make sure it goes smoothly and successfully. Some have been struggling with the process and find their child tends to respond better to teachers. Some simply prefer to spend their limited time off work doing things other than potty training their kids. I don't think anyone should judge parents for what they decide is best for their families.
Correction: Fatherly originally reported that Samantha Allen charges $4000 for a two-day session. Allen actually charges between $3000 and $3300 for an in-person two-day consultation, a fee that covers assessment, planning, and preparing the family prior to the actual potty training.
This article was originally published on