What Is a Postpartum Doula, and How Can I Find One?
It's ok to need help with a newborn. These doulas are trained to provide it for you.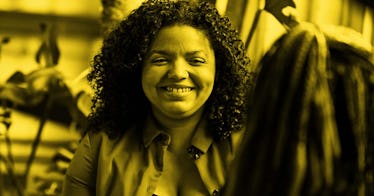 Your newborn has finally arrived, and you get to head home from the hospital. But after everything it took to get baby here, you and your partner are exhausted, and your baby has a lot of adjustments to make to life on the outside, not the least of which is learning how to sleep. If it seems like you might not be able to hold it all together, you aren't alone. That's why an increasing number of parents have considered utilizing the support of a postpartum doula.
What Is a Postpartum Doula?
Postpartum Doulas provide emotional, physical and educational support for parents in the weeks or months after their baby is born. Linda Bryant-Daaka, a Labor and Postpartum Doula and Childbirth Educator, coordinates the Sacred Roots program at the Black Parent Initiative in Portland, Oregon. "Postpartum services normally consist of helping mom in whatever way she expresses to us ahead of time." she says. "But also, responding to needs as they arise."
There is a distinction between postpartum doulas and birth doulas who provide coaching and support for women during labor. A doula trained in both areas could be present during the delivery and then provide postpartum support, though some doulas specialize in one aspect of care or the other.
What Services Does A Postpartum Doula Provide?
Sara Skiles, a labor and postpartum doula who founded and owns Wichita Doula, emphasizes that while postpartum doulas help care for newborns, the primary focus is on supporting the parents. "The main reasons parents hire a postpartum doula is that it's very overwhelming to bring baby home from the hospital, and they don't know if they should bother their pediatrician with every little question about what's normal or not normal," she says. "But more than just for a baby, it's for the parents. Learning how to breastfeed, learning about sleep schedules. Having the postpartum doula is about having a support system in the home."
The scope of services that postpartum doulas provide varies depending on the doula and the family's needs. "Sometimes they help set up a meal train," explains Bryant-Daaka. "Or if a mom doesn't want anyone over then the Doula can prepare meals, help with young children, or complete other tasks that can allow mom to get in a nap or a leisurely bath."
How Much Does a Postpartum Doula Cost?
Skiles has seen interest in doulas explode in the nine years since she's been providing services. "People have been googling it and talking about it," she says. "Many celebrities have made it really popular talking about it on Instagram, which can cause people to think it's only a Los Angeles or New York thing. Still, it's been growing in popularity all over the country."
Standard agreements for postpartum doula services typically involve the purchase a package of between 100 and 500 hours. Skiles would expect a family to utilize approximately 100 hours per month, with standard rates varying depending on where you live. "The absolute rock bottom rate in a rural area is $25/hr. In parts of the country with a higher cost of living, doulas may charge $60+/hr. In our area of the midwest, the range spans $30-$40/hr," she explains.
The Black Parent Initiative looks to increase accessibility to doulas by using a unique community-based model that utilizes grant funding to provide culturally specific doula care for black and multi-ethnic families through their Sacred Roots program.
How Can I Find a Quality Postpartum Doula
"The best way for someone to find a postpartum doula in their area is to either ask their circle of friends if they have someone they've used and trusted, or getting a recommendation from a pediatrician or lactation consultant," suggests Skiles. It's important to start the process early if possible, so that you can do personal consultations to make sure everyone is on the same page.
"Different doulas practice in different ways, and you want to make sure they are willing to support you in whatever your goals are with a nonjudgmental attitude," Skiles notes. During the initial consultation, she specifically suggests asking:
If the doula is available during the day, at night, or anytime.
If the doula is comfortable with your parenting philosophies on diapering, feeding, sleep training, and attachment parenting.
What verifiable training, certification and references the doula can provide.
Skiles cautions that since it's an unregulated profession, it's up to parents to make sure the person they are hiring is appropriately qualified and experiences. "If they're not certified they should at least be professionally trained and working toward certification."
In addition to leaving time to make sure your doula fit is a good one, Skiles recommends parents settle on a doula at about the 28th week of pregnancy. Agencies are booking up farther in advance this year with people not wanting their elderly parents to fly in to help with grandchildren during COVID. "We do our best to accommodate people who call us after baby is home, but I advise people plan ahead to ensure they have as much care as they need from a specialist who is a good fit for their family."
Pregnancy, labor and delivery are especially intense and sacred and that takes a lot out of a person. It's absolutely normal to want or need help once your baby is born, so taking time to consider what kind of support you might want in advance is something parents will thank themselves for later.
This article was originally published on