How Parents Should Prepare for Children's COVID-19 Vaccine
As COVID-19 vaccines are approved for children, parents need to consider the logistics of getting them vaccinated.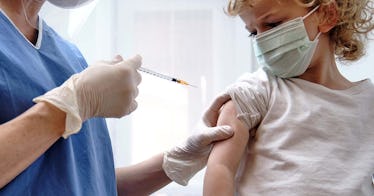 The COVID-19 vaccines are starting to receive emergency use authorization for younger Americans. Currently the Pfizer-BioNTech COVID-19 vaccine for kids age 12 and up is likely to be authorized for kids age 12 and up by mid-May with possible approval for children 2 to 11-years-old by September. But children are in a unique position when it comes to the COVID vaccine. For instance, kids will lean on parents to communicate the reasons for the vaccine in ways that are clear, age-appropriate, and concise. But even more than that, parents are responsible for logistics like scheduling and transportation to vaccination locations. And make no mistakes, those logistics require some forethought.
Why You Should Make a Children's Vaccination Plan Now
Unlike adults, children require special consideration when getting vaccines, explains Dr. Kenneth Alexander, chief of infectious diseases at Nemours Children's Hospital. "The thing that parents have to keep in mind is that the FDA is asking that COVID vaccines be given two weeks before any vaccine and two weeks after," he says.
Those guidelines present a potential for serious disruptions in a child's standard vaccine schedule. So if your child has vaccines coming up in the fall, as required for school for instance, Dr. Alexander has one piece of advice: "Go while the going is good."
Where Will Children Get the Vaccination
Most children receive vaccines from their pediatrician. But logistics will likely require kids to be vaccinated outside of doctors offices.
"The FDA asks that we observe people for 15 minutes after you get vaccinated," Dr. Alexander says. "If you're a pediatrician trying to run people through a family office, it's going to gum up the works. I expect most vaccines for young people will be mass vaccination scenarios."
Importantly, the United States has no centralized medical authority to standardize vaccine administration across the country. The Centers for Disease Control and Prevention (CDC) can offer guidance regarding the administration of the COVID vaccine and the Food and Drug Administration (FDA) regulates vaccine safety, but distribution is solely up to state health departments. That means distribution of a vaccine to children will look different from state to state.
That said, Dr. Alexander assumes the most likely scenario is that many children will receive their vaccine in school — following the examples of the polio vaccine in the 1940s and the measles vaccine in the 1960s. But some states may administer vaccinations at already working sites. Pharmacies, for instance, may vaccinate children as young as four, but it won't look unlike what parents are used to in the doctor's office.
Helping Your Child Understand the Vaccination
Children can be hesitant to get a vaccine in the best of times. But a children's COVID vaccine is one shot that can help them feel like they've made a difference. It just requires some civic pride.
"It's the perfect time to have that dialogue with your kids," says Dr. Alexander. "Their motives are no different from ours. First thing is that you want to protect yourself. You want to be healthy. Then you want to protect the people that make up your world."
Because while it's true that most kids don't get particularly ill from Covid-19, they are capable of transmitting the virus to others. So getting the shot is not only helping themselves get back to normal, it's protecting their community.
"This is a way of talking to kids about thinking outside of themselves," explains Dr. Alexander. "If I got COVID and I gave it to you and you gave it to your mother or grandmother, I'm affecting someone I've never met."
Managing Parental Anxiety About Children's COVID Vaccinations
Even parents who believe in the efficacy and importance of childhood vaccinations might balk at the prospect of giving their child a vaccine approved for emergency use. But Dr. Alexander assures parents that by the time the vaccines are ready for children's arms, there have been tens of thousands who have already tested the vaccine for safety.
"Any time these vaccines are given an emergency use authorization, there have been a lot of people across that bridge ahead of you," explains Dr. Alexander. "It's always a risk-benefit calculation. But you have a higher chance of having a car accident on the way to get the vaccine than you do of having an adverse reaction to the vaccine."
He adds that once these vaccines are approved for emergency use by the FDA, they are reviewed for safety every four months for two years. And he points out that once those two years are up, it's almost certain the vaccine makers will file for permanent approval.
Finally, Dr. Alexander acknowledges that whether you're a parent or a child, getting a vaccine is nobody's idea of a good time. Some people may want to get it out of the way immediately and some might want to wait. And there's no shame in waiting.
"Not accepting vaccination immediately is normal," he says. "What's not normal is closing your mind. That means you're turning your back on both scientific data and your community."
This article was originally published on