How To Leave Your Kid With A Babysitter For The First Time
The key to a successful departure is putting in the time to find the right babysitter.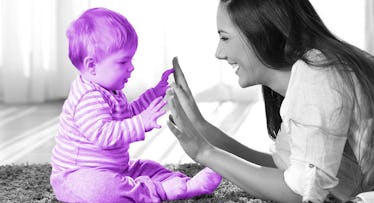 Dates nights are pretty important. In fact, dating your mate can be a predictor of a marriage's long term success. And while babies are amazing, mom and dad need to take some time for themselves. And if the baby can drink from a bottle, and mom can pump and store some milk beforehand, parents could be out together much sooner than they might expect. But if parents want a successful outing – and the ability to leave without parent or child being too anxious – they need to find a sitter everybody likes.
Rebecca Parlakian, Senior Director of Programs at the early childhood development nonprofit ZERO TO THREE, had a pretty effective method: "We had the most luck with hiring my children's child care providers to do childcare on weekend date nights," she explains. "We always chose to ask their 'favorite' teachers so it became a fun night for the kids with someone they knew well. Also, childcare professionals are background-checked as part of the employment process and know basic first aid, which then meant we didn't have to worry about these issues."
RELATED: How to Find a Babysitter You Can Trust
But if the kid isn't in daycare, parents will need to look elsewhere. The gold-standard babysitters are usually grandparents – they are familiar, trustworthy, and know what they are doing – but there are any number of avenues to find qualified sitters: PTA lists, word of mouth, even apps. Their services shouldn't be secured sight unseen, however. Parlakian advises interviewing a candidate and securing references.
"It's always important to interview sitters so you can get a sense of how they are with you, and how they have approached caring for children in the past," advises Parlakian. Parents should ask questions about relevant experience with children of a similar age, and how they deal with challenging situations. It's a good opportunity to get a feel for the candidate and ask for references.
How to Hire a Babysitter Without Stress
Interviews are not too formal – it's reasonable to speak to prospective babysitters, not weird.
Check references on the phone or in person, instead of by email or text.
Paid observations are a small investment that allows parents and children to find the right sitter.
Write out the bedtime schedule and routine – and what the house rules are, for older kids.
Parents should also write down their numbers – and leave their phones on.
Hit the road and don't come back (until the date is over.)
"Most families who have good experiences are more than happy to share them," Parlakian says. "It's tempting to reference-check by email or text, but I always recommend a phone call. You can pick up pauses or inflections that might be missed in written communication. And, as you talk, follow-up questions might come up that are very helpful."
Really, the best way to measure a potential sitter's fit with the family is to have them come over and try it. It's called a paid observation: the sitter visits and learns the family routine and the personality of the kid while mom and dad are there.
"None of us would like to be left with a complete stranger, alone in our house, for several hours – especially when that person will be tasked with personal routines," explains Parlakian. "So setting up a playdate with your new sitter is a great way to help your child get familiar with this new person in their life, and for YOU to get comfortable with this person, see how they interact with your child, and explain family rules and routines."
Explaining evening routines, as well as agreeing upon rates, helps make that first night go more smoothly. Prepping just a little more can help it go even more smoothly.
"I think it's really helpful to write down a schedule for the night so the sitter knows when and what to do," suggest Parlakian. "Talk them through the schedule and show them where things are in the house."
Finally, parents should prepare their children for the evening. For infants, it's a sweet goodbye, not drawn out. For slightly older kids, it might be as simple as explaining that the babysitter will eat with them, play with them, and help them fall asleep and that when they wake up in the morning, things will be back to normal.
And when it is time to leave, it's time to leave. It's a bit unfair to the sitter – and particularly the kid – if parents linger and keep returning after they say goodbye. The baby will be okay, and that bibimbap isn't going to eat itself.
This article was originally published on