The Importance of Playing with A Child's Sense of Smell
A smell researcher on why playing with a kid's sense of smell can help develop their taste and language.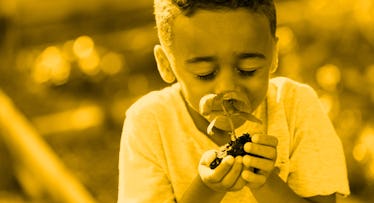 A baby's sense of smell is often taken for granted. From their child's birth, parents are encouraged to engage kids in sensory play. They are told to show them new and novel sights, speak to them, play them music, give them opportunities to feel different textures and taste different tastes. But what about smelling? A good sniff is integral to how humans understand and learn about their world. So along with the black and white animal flash cards, and the songs and tickles, parents should also be playing with their kids understanding of the olfactory world.
"They've already started smelling in the womb," explains Dr. Ann-Sophie Barwich, cognitive scientist and empirical philosopher and historian of science, technology, and the senses at Columbia University. "They're getting a sense of the mother's smell from the inside, which is part of why they are recognizing the mother so well when they're born and it takes longer to recognize the dad by his smell."
Compared to sight, which takes a few months to come into focus, a baby's sense of smell is remarkably developed from day one. So it's a way in for parents who want to engage. And there are a couple of reasons to do just that according to Barwich, notably food and language.
"They find farts actually not only funny but kind of exciting. So the impression that we get that these are bad smells and disgusting comes a little bit later."
Smell is particularly linked to food because it is deeply tied to how humans experience flavor. In fact, when the sense of smell is dampened by a cold, for instance, the world becomes a bland place. A baby that has a rich smell life will likely be less hesitant to get swoopy airplanes full of new flavors in their toothy hangers.
"You want your kids to grow up and appreciate a wide variety of food and not just stick to specific flavors of their junk food," Barwich says. "To be more familiar with different types of smell will help in that context."
The sense of smell can also be helpful in developing vocabulary. The reason for this is thanks in part to how ephemeral and ineffable smells are. Being able to describe smell requires imagination. Barwich notes that as children grow and become verbal, smell can spark their mind in wonderful ways. "You can train a child's vocabulary by giving them a couple of different smells and asking them to describe them," she says. But notes there aren't any wrong answers. Kids can choose colors or images or metaphors. "It's a form of imagination and language training."
Barwich offers some simple methods for playing with smell, the most basic of which is adding it to observations as parents go through their day. So, when directing a kid's attention to the park squirrel, or the sound of the birds and the temperature of the air, parents can also point out the smells of the grass, leaves and even car exhaust.
"Kids, when they are really young don't discriminate between good and bad smells," Barwich points out. "They find farts actually not only funny but kind of exciting. So the impression that we get that these are bad smells and disgusting comes a little bit later."
"Kids aren't going to be great wine or whiskey tasters," says Barwich, "But it's good to be able to just learn how to use your senses and have control over your body and perception.
While cooking, parents can tie the herbs they're working within cloth and give them to smaller babies to smell and gum (as long as they are not spicy). As the kid sniffs, parents can describe the herb. As children get older they can help grow and harvest herbs from an indoor or outdoor herb garden, noting the difference in aroma between whole, crushed and even dried leaves.
Barwich also suggests a game of memory in which smells can be applied to cotton balls. These smells can come from perfumes or very small dabs of essential oils or whole ingredients. Kids smell one cotton ball, wait a moment, and then try to find its pair in a selection of cotton balls. Care just needs to be taken that younger kids don't put the swabs in their mouth.
"Kids aren't going to be great wine or whiskey tasters," says Barwich, "But it's good to be able to just learn how to use your senses and have control over your body and perception. It's a matter of training their awareness, attention, and focus."