How to Use a Car Seat in a Uber, Lyft, or Taxi
Parents should opt for cheap seats that are heavy on ease-of-use for Uber and Lyft rides.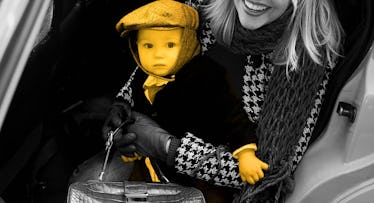 Passengers in the back of taxi cabs, an Uber or Lyft, enabled by exemptions in state seat belt laws, have long been cavalier about buckling up. And while going sans-seat belt is a bad idea for the average cross-town traveler, forgoing a car seat in a cab or hired ride is straight-up parental negligent. The laws of physics don't magically change based on the who owns the vehicle or whether a passenger is seated in the front or back. Being unrestrained in the backseat of a taxi is no less deadly than being unrestrained in the back of the family truckster. That means that parents need to know how to make a car seat work in a rideshare or cab.
READ MORE: The Fatherly Guide to Car Seats
It's worth repeating the hardest of hard facts: Being unrestrained is incredibly deadly for children. According to the Centers for Disease Control and the National Highway Traffic Safety Administration, motor vehicle traffic crashes are the leading killer of children under 15-year-old. Of the child occupant deaths in 2016, nearly 40 percent of fatalities were unrestrained.
"If you're not wearing your seatbelt, you're not only risking your own health but those of everyone else in the car," explains AAA State Relations manager Richard Romer. "Because in the event of a crash, you yourself, or the unrestrained person, become a projectile."
Some ride-sharing parents might understand the danger but rather than deal with the hassle of a car seat or booster seat, will simply buckle their kid in with the standard seatbelt. That's not good enough, according to Romer. "What folks don't know about seat belts is that they're designed for adults," he explains. "What car seats and booster seats do is provide a better restraint." Better, because they ensure the pressure from an impact is distributed along the hard parts of a child's body.
That, of course, doesn't make it any more convenient to use them in a hired car. Particularly when facing the prospect of extracting the car seat from the family vehicle and installing it in another car in a limited amount of time.
Kerry Chausmer, Director of Certification at Safe Kids Worldwide, acknowledges that the inconvenience will never be reduced to zero. But she does note there are things parents can do to make things a bit easier. "For instance, you don't necessarily have to bring the big, heavy car seat that you use in your personal vehicle," she says. "Maybe for your trip you buy a lightweight inexpensive convertible car seat for $50."
MORE: The 10 Best Apps Like Uber & Postmates For Errands, Handymen, Mail & More
This cheap seat, Chausmer explains, can become the family travel seat. Sure, it doesn't have all the bells and whistles, but that doesn't mean it's any less safe. All car seats have to meet a minimum government-mandated safety requirement, despite the price.
Many cab companies and ride-sharing services may offer loaner seats, but using one of these car seats can be problematic because parents can't be sure of the seat's history. That's why it's important for parents to ask if any loaner seats have previously been involved in a crash, or have been recalled by the manufacturer. "In fact, if they want to they can look at the label on the car seat, get the model number, date of manufacture and manufacturer contact information and just call them right there and ask about recalls," Chausmer notes.
But car seats aren't the only way to restrain a kid in a vehicle. "There are specialty restraints that are specifically good for travel," Chausmer explains. These include seats that only use a hard plastic back and harness allowing them to pack flat, and restraint vests that integrate with the available seat belts. But these are only good for kids big enough to sit facing forward.
"If you're using a rear-facing only car seat, especially when a child is a little bit more portable, almost all of them can be secured using the vehicle seat belt, without the base," Chausmer says.
ALSO: The 9 Best Physics Games & Apps That Explain Forces Of Nature To Your Kids
Things get even more manageable once a child is big enough for a booster seat, around the time a parent might be tempted to just strap a kid a kid into the seatbelt. Chausmer notes there are even inflatable options that ensure the seat belt is positioned properly across a child's body.
"Families should make this part of their planning," Chausmer says. "When they're making reservations and packing, they should be looking at how their family is going to be transported and make sure they don't sacrifice safety for convenience."
This article was originally published on