IVF Cost: How to Calculate and Prepare for IVF Expenses
Fertility treatments like IVF are priced like the medical procedures they are — but they aren't necessarily covered by insurance.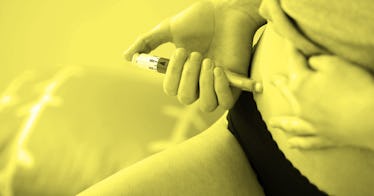 When people consider fertility treatments, one of the primary concerns are quality of care and financial accessibility. In vitro fertilization (IVF) costs, for instance, remain high despite an increasing number of insurance companies offering plans that include coverage for fertility treatments. But figuring out which plans can help lower in vitro costs requires finding out the answers to some fundamental IVF cost questions.
What is the average cost of IVF?
Costs for IVF vary depending on several factors, including location, market dynamics, and the exact course of treatment. According to Dr. Sanaz Ghazal, MD, Co-Founder and Medical Director at RISE Fertility, prospective parents should get a reasonable estimate of costs from a specific provider following your initial consultation.
"An IVF consultation is simply a conversation to get to know a patient and to understand their journey, their goals, and the family they wish to create," explains Dr. Ghazal. "It forms the foundation of the fertility care plan we develop with the patient."
The consultation allows your doctor to consider diagnostic testing, which helps them evaluate all the possible risk factors that could impact fertility. From there, they can counsel patients about all their treatment options from an informed position.
"IVF is the most advanced and powerful technology we have to help patients conceive, and there are many different techniques and strategies" Dr. Ghazal says. "By tailoring and customizing protocols to fit the patient's needs, we can optimize outcomes and improve their chances of success."
Excluding medication, a single cycle of IVF in the USA costs between $4,525 and $25,000. With such a wide variance due to treatment options, fertility finance specialists encourage people to think about costs in terms of four different treatment "buckets":
Diagnostics: A consultation with the patient and running diagnostic testing to assess why a patient has fertility issues is approximately 10 percent of the overall cost.
IVF Treatment: This encompasses the actual IVF treatment and procedures, which make up approximately 60 percent of the total cost.
Monitoring: This stage monitors the patient throughout the fertility treatment process and makes up approximately 15 percent of the overall cost.
Medications: Approximately percent of the overall cost.
Does insurance cover IVF?
While it's possible your insurance provides coverage for IVF, the specifics will vary depending on plan. And as more companies embrace fertility there's an increased likelihood that those seeking fertility treatment will find that it is covered.
According to a 2019 report from the International Foundation of Employee Benefit Plans, around one-third of companies employing 500 or more people offered some kind of infertility treatment benefit. Moreover, that was a 24 percent increase in coverage over three years. And nine of Fatherly's 24 Best Places to Work for Moms also include at least some coverage or related help to parents looking to conceive.
Contacting your insurance company to get the specifics of your plan is an excellent first step. It's also worth exploring whether your insurance provider offers alternative plans that include more comprehensive IVF benefits.
How can I pay out-of-pocket expenses for IVF?
Individuals and families considering IVF have some options for paying out-of-pocket expenses. While many families organize crowdfunding campaigns that allow family members and friends to contribute toward the cost of IVF, some people prefer less public financing options.
Some banks will allow you to refinance your home loan to provide immediate funds that you can use for IVF. Medical loans are also available from some financial institutions, but they tend to have higher interest rates and shorter terms than a home refinance.
It's also possible that your fertility treatment provider offers in-house financing. For instance, RISE Fertility has created some financing options, including zero-interest and low-interest loans for patients at no additional fee.
While it can all be a lot to take in, technology has made finding specific answers to these questions more attainable. Finding what resources are available to you as you also determine your family goals will help you find the best path for you.
This article was originally published on