How to Decide Whether or Not to Homeschool Your Child
There are a multitude of factors that play into the decision to homeschool a child, not the least of which is understanding parental time commitment to providing a successful education.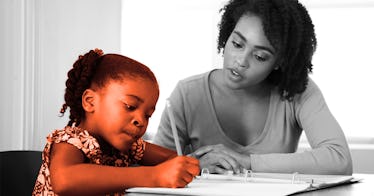 There are an estimated 3.5 million homeschooled children in the United States, a number that has been rising at about 3 percent annually since at least 2012. That means homeschoolers account for just under 10 percent of the school-age population, second only to private school when it comes to children engaged in private education. But what do parents need to consider when thinking about homeschooling?
Many assume that most parents who choose to homeschool their kids do so for religious reasons. While that may have been true at some point, religious motivation is no longer the number one driving factor behind decisions to homeschool. According to the most recent report from the U.S. Department of Education and the National Center for Education Statistics, only 16 percent of parents homeschooled children in order to provide specific religious education. Some 80 percent of parents who homeschool children cite school safety as the driving factor behind their decision.
Importantly, the safety concerns weren't specifically related to recent school shootings (though that is a factor). Parents also pointed to drugs in schools, peer pressure, and bullying.
"Homeschooling is a lifestyle choice," explains Lisa Rutsky, Vice President of Education and Academic Dean at Penn Foster High School, an accredited provider of online high school curricula. "It's a bit different than just choosing which schools in your area your kid is going to go to."
Rutsky notes that it's important for parents looking into to homeschooling to weigh concerns like safety with issues like the academic quality of the chosen homeschool curriculum and flexibility. "This is not to keep them in a bubble," Rutsky says, adding that technology has enabled homeschool students to be far more connected with a community of kids who share their experience. "We have a social, online virtual community that is moderated by many people. Students have a place to go to share and meet and not feel isolated."
While there are homeschool programs like Penn Foster that have a social component baked into the curriculum, parents should be aware that there are hundreds of homeschool programs available to choose from, each with their own scope, method, and mechanism to educate and socialize kids.
Julie Polanco is a homeschooling advocate, a 15-year veteran homeschooling parent and author of 100 Ways to Motivate Kids. She notes that one of the best ways to narrow down the options and find a curriculum that works best is to consider the learning method that best suits the family. "The method determines how you narrow the curriculum choices," Polanco says. But she also notes that any curriculum will require a serious investment of a parents' time and that parents shouldn't take the plunge if they're not willing to put in the effort. "It is not easy but it is worth it if you invest the time and energy needed to make it work," Polanco notes. "Consider how it will impact your income stream, your lifestyle, your friendships — and theirs — and every arena."
How to Decide to Homeschool Your Child
Safety Concerns — Some children might do better at home, particularly if they are being bullied, are in an unsafe school or are susceptible to negative peer pressure.
Disabilities — Some children affected by disabilities may be better served at home by parents. Some public schools simply do not have the resources or expertise to work with kid affected by certain disabilities.
Time and Money — Teaching a child at home is a huge time investment and a homeschool curriculum does require a monetary investment.
State Regulations — Every state has a different procedure for children removed for homeschooling. Parents need to be aware of local requirements.
Socialization — Parents need to be aware that homeschooling can feel isolating for children. It's important to be connected to the local homeschooling networks or pick a curriculum that has a social element built in.
Investment seems to be what drives homeschool success. And research says it can be successful. The key appears to be that the home learning must be structured. According to a study published in the Canadian Journal of Behavioural Science children who were homeschooled with organized lesson plans actually outperformed public school children by a statistically significant percentage. On the other hand, kids receiving unstructured homeschooling did not perform as well as peers educated in the public school system.
That's good news who for parents who are ready to take the plunge. But Polanco has another word of caution for would-be homeschoolers — make sure you know the state regulations before starting any homeschool program. "Contact your state homeschool organization to get this information," she says. "Some states do not require you to file any paperwork and others have a whole process in place."
This article was originally published on