Why Parents (Rudely) Freaked Out About Chrissy Teigen's Playground Instagram
More than a few parents lashed out at Teigen after the model posted a photo of her sitting on a park slide with her toddler.
by Raz Robinson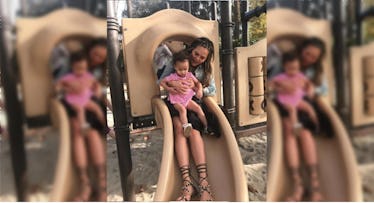 Model Chrissy Teigen is being called out on Instagram, after posting a picture of her sitting on a playground slide with her daughter seated in her lap. Responses to the photo ranged from empathetic and concerned parents gently informing her of the potential dangers of what she was doing, all the way to commenters callously calling the 32-year-old an "idiot" and rudely asking "what the hell is wrong" with her.
The outrage stemmed from the potential, but not well known, dangers that could occur when children and parents play on slides at the same time. During a parent-child slide, unsuspecting mother or fathers can accidentally harm their child should one of the kids' feet get stuck underneath them. In fact, the force of the adult going down the slide can actually stress the child's leg enough to break it. According to a study conducted by the Winthrop University Hospital in Mineola, N.Y, close to 14 percent of pediatric leg fractures per year came directly as a result of parents riding down slides with their children.
Teigen wasn't sweating all the hate though. Later on, in a playful response to the comments, she announced that she wishes people "would have told [her] about the leg thing earlier," before sarcastically joking that both of her child's legs are now broken along with "everyone else's in the park." Fans of Teigen also came out in support, some saying other parents should mind their own business while others shared anecdotes of their children getting hurt doing the same thing.
It's very fair to note that Tiegen's child actually does have her leg in a precarious position perfect for getting caught and broken, so the primary moral of the story is still that adults shouldn't ride down the slide with children. But what's the other huge takeaway? There are a lot of little rules that come along with this whole parenting thing. And sometimes we all need a refresher.