6 Fathers on the Potty Training Tricks That Made the Process Easier
Potty training can be really tough. Here's how to make it a little bit more bearable, according to six dads who have gone through it.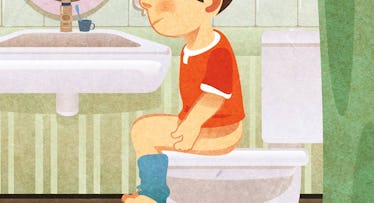 It does not come as a surprise that potty training is one of the more trying parts of raising a toddler. It's frustrating. It's messy. It's frustrating (that one warrant repetition). The good news is that, when a kid is ready to begin potty training, there are lots of tricks parents can use to help them out. Most of these aren't new and there's no need to reinvent a wheel that is literally thousands of years old, but it is worth listening to tips from parents who have had more recent successes. If nothing else, it's reassuring.
READ MORE: The Fatherly Guide to Poop, Diapers, and Potty Training
Here, then, are eight recommendations from fathers who recently made it through the potty training process with their sanity intact.
1. Watch That Daniel Tiger Potty Training Episode
At least three dads mentioned their success with the Daniel Tiger Potty Training Episode. Titled "Daniel Goes Potty," it reminds kids that when you gotta go, you STOP and go right away. "We used it when we were potty training my son and it helped him a lot," said Brian, a father of two in Rockland County, New York. "It was instructional, yes, but the most helpful part was that it was coming from a character he knew and related to. It made him feel comfortable."
2. Embrace the Tot-on-The-Pot
Billed as a creative "play-based" potty training program, Tot-on-the-Pot includes a soft doll with her own personal mini toilet, a comprehensive parenting guide, 20 laminated activity cards, and a Tot on the Pot board book. Fatherly editor Dave Baldwin said the game was an excellent "Partner-In-Poop" for his daughter. Not only does it provide a way a kid to play out potty time with a doll, but the game-based incentives help kids conquer the toilet. Other role-playing potty training games help, too.
3. Turn It Into Target Practice
When potty training boys, several dads swore by turning potty training into target practice. Giving their son something to aim at — and making a game out of going — helped them conquer the commode. You can buy targets online, or make your own. "I draw boats and ducks on tissue paper and the goal is to sink the target," said one dad. In any case, it's a good tactic for those working not just on potty time, but accuracy and independence.
4. Read Sesame Street's "P is for Potty"
This board book, in which Elmo teaches little kids the art of going potty is not only written in simple, straightforward, silly language but it also has more than 30 interactive items to pull or push on each page. Several dads mentioned how useful the book was in introducing the idea of potty training and encouraging and reassuring them in their potty pursuits.
5. Buy a Travel Toilet Seat
"We had a travel quite a bit when our first daughter was potty training; considering how important consistency is, this was the biggest help," says Kevin, a father of two in Louisville.
6. Make a Decision and Stick With it
"Don't switch between underwear and diapers. We moved to underwear all day (including nap time) and then pull-ups at night (we call them nighttime underwear). The differentiation is huge, and we don't use the restroom in any time of underwear, daytime or nighttime," said one dad. When you begin the potty training saga, it may be tempting to have a transitional period where you switch from diapers to underwear and back again depending on the time of day. But that can confuse a kid, and the decision to do underwear all day — including during nap time — helped his kid get with the program.
This article was originally published on