10 Parents on Their Favorite Valentine's Day Family Traditions
From heart-shaped pizza to all-red everything.
by Dave Baldwin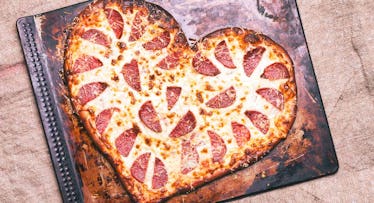 Valentine's Day takes on a different vibe when you have kids. The day becomes less about sex and romance ⏤ although that doesn't have to take a complete back seat ⏤ and more about family love. You love your kids. Your kids love you. Why not take an otherwise commercialized holiday and turn it into something much more than tiny heart-shaped candies that say "Be My Valentine." One way to do that is by starting a family tradition around Cupid's big day. But since they're already going to be filling out a stack of miniature cards for their classmates, what's something fun at home that you can do to make the day special, that they'll always remember? And maybe even continue when they're parents themselves.
To get some ideas, we asked readers for their Valentine's Day traditions ⏤ either now that they have kids or when they were young themselves.
Best Valentine's Day Traditions
"My wife and I make the kids a red dinner and a red dessert. She and I have our anniversary a week later, so Valentine's Day is all about the kids. It's usually a pasta with a red sauce as the meal, and red cake is a huge favorite. But we get creative. It's fun even for the high school boys who love to watch their first-grade sister enjoy it as much as they did at her age."⏤Anthony M. Greenburg, father of three, Lansing, MI
"My parents used to give us gifts. Small, but meaningful. Sort of Easter basket stuff, like a hat from my favorite team or a nice button-up shirt. We do that too."⏤Adam Sommer, father of two, Warrensburg, MO
"We did heart-shaped pizza and my mom made a heart cake. My wife's family would make French onion soup, fondue, and chocolate mousse. As parents, we plan do something special as well, so the kids have something to look forward to."⏤Jesse Lara, expecting mother, Minneapolis, MN
"Every Valentine's Day, our usual bowls of cereal were replaced with perfectly heart-shaped, pink pancakes. They were made with lots of love, patience, and no special molds."
⏤Summer Hutcheson, mother of one, South Hadley, MA
"Valentine's Day morning when I was a kid always began with gigantic, plate-sized, heart-shaped sugar cookies with pink frosting. At the time it seemed amazing ⏤ a cookie that takes three days to eat! Today, I can't imagine giving that to my kid, but maybe my attitude will soften when she has more teeth."⏤Ryan Townsend, father of one, Kansas City, MO
"My mum used to make pink heart-shaped pancakes, pink potatoes, stuff like that. And I always used to try to make at least one Valentine item every year for our kids. Now, our tradition is to not celebrate Valentine's Day ⏤ my husband and I celebrate 'February 15th' when all the chocolate is on sale."⏤Jacqui Machado, mother of three, Ontario, Canada
"My wife and I have done a Valentine's-Day picnic since our first year together. Sometimes they are lunch, sometimes dinner. But always a picnic."⏤Justin Marando, expecting father, Sydney, Australia
"Heart-shaped pizza and a rose for my daughter. My wife and I go out for dinner, usually, somewhere we've never been. And she gets flowers, too."⏤Bill Fuller, father of two, Bloomingdale, NJ
"Ours is a family tradition but without the little one. I'm from the UK and not big into the Valentine's Day, so we keep it simple ⏤ we stay home and cook… British style! Could be beans on toast; chicken curry, rice, and chips; meat pie and mash. I'm salivating at the thought of what we will do this year."⏤Jamie H, father of one, New York, NY
"We do a Valentine's Day dinner with all the kiddos to remind them how much we love them. It's always super cheesy with plastic champagne flutes and heart-shaped food like pepperoni, pasta, etc. They're all preteens now, but we know they still enjoy it between the complaints and eye rolls." ⏤ Mena Williams, mother of four with one on the way, San Antonio, TX
This article was originally published on