The First Electric School Buses Quietly Roll Out Across The Country
We visit one lucky school district in Kansas to see how it's going.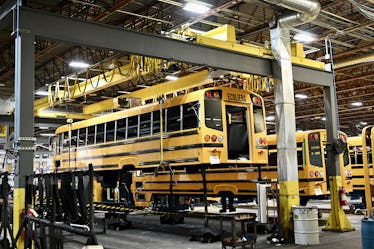 DERRICK CAKPO/AFP/Getty Images
School buses are everywhere. Literally. With more than 480,000 school buses transporting an estimated 26 million students to and from school each day, they cover nearly every corner of the country, from rural to urban to suburban.
School buses provide a necessary service, ensuring that kids across the demographic spectrum make it to school in a safe and timely fashion each day. They also bludgeon the environment: 95% of school buses run on diesel fuel, getting approximately eight miles to the gallon, with each bus driving an average of 12,000 miles per year.
Last fall, nearly 400 school districts received word that new electric buses were headed their way, thanks to the Environmental Protection Agency's Clean School Bus Program, intended to replace the noisy and exhaust-belching diesel buses that almost exclusively make up the school bus fleet in the United States. As the school year revs up, the first of these buses have been delivered and are in use at schools across the country. Sterling USD 376 in rural Kansas was one of the first districts in the state to receive their buses, and the results show a program with promise — that has kinks to work out along the way.
The district — with a K-12 population nearing 500 students — received $790,000 to replace two of their aging buses over the summer. (The program sets aside $965 million to replace 2,426 buses nationwide, to be delivered throughout the school year into Spring 2024.) Sterling received its buses earlier than most districts because School Superintendent Jim Goracke and the school board had done the advance legwork to ensure the district was prepared to place an order for buses immediately upon finding out they had been selected for the grant.
While receiving brand-new, free vehicles straight off the assembly line is reason enough to celebrate for cash-strapped school districts, electric buses have a number of upsides over their diesel counterparts. As earlier reported by Fatherly, it's estimated that reducing kids' exposure to diesel exhaust fumes will lower childhood deaths by 2,000 per year, eliminate at least 18,000 cases of childhood asthma, and result in 1.1 million fewer missed days of school per year.
"We expect to see a significant drop in cases of asthma and other respiratory illnesses in kids and bus drivers and teachers who load our precious cargo before and after school," EPA Administrator Michael Regan told Fatherly last year. "These electric school buses could eliminate that anxiety of having an asthma attack on the way to school or some sort of respiratory distress."
The Clean Bus Program provided immediate benefits
The federal subsidies also help districts make higher-quality choices that put the well-being of kids first. "We needed one new bus this year," Goracke says. "If we had to purchase it outright, we would have opted for one without air conditioning just to keep costs down, and that would have cost the district about $110,000. And then we would have still needed to purchase a second new bus in two years."
The air-conditioned buses made an immediate positive impact on kids this year as weather conditions were sweltering throughout the first three weeks of classes in Sterling, which started on August 17. High temperatures hit at least 90 degrees almost every day for the first three weeks of school, and daily high temperatures exceeded 100 degrees throughout the first full week of school.
In addition to the initial financial benefit, the switch to electric buses also provides ongoing financial relief in the form of reduced fuel costs at a time when many other costs are on the rise. Goracke has access to data that shows that charging the electric buses costs the district about one-third of what it would pay for diesel.
It's also anticipated that the transition to electric buses will also have positive environmental impacts. Diesel exhaust contains black carbon particles, which in the short term are 3,200 times more harmful to the climate than carbon dioxide. Diesel exhaust also produces acid rain and increases the amount of ozone found at ground level, which damages plant life, including crops, and is detrimental to groundwater and soil quality.
But for cash-strapped districts, there are challenges
That being said, the district won't be able to make the shift to an all-electric fleet anytime soon. "It would be absolutely impractical without significant financial investment from an outside entity," Goracke says. Based on his calculations, it would currently take 15 to 18 years of the fuel savings that electric buses provide to break even on the initial increased cost of purchasing EV models if the district bought them on their own — EV buses are four times more expensive than those with combustion engines.
And rural districts — which serve 19% of students in the United States — face the added challenge of underdeveloped infrastructure for large electric vehicles when considering a bus fleet overhaul. Funding from the EPA included some money for charging stations, but most of the schools that Sterling High School travels to for athletics and activities don't have anywhere to charge a bus. They can go about 90 miles on a single charge, but only two out of the 12 schools in Sterling's conference are within that range for a round trip.
Unlike diesel buses, electric models actually get worse mileage driving in flat rural areas where they aren't required to stop frequently because electric vehicles utilize regenerative braking to boost fuel efficiency. The technology captures the kinetic energy from braking and converts it into the electrical power that charges the vehicle's battery, which is great for stop-and-go traffic but not so much when cruising along for long stretches.
Even taking the buses to a metropolitan area like Wichita, where standard charging stations are more common, isn't really feasible for logistical reasons, Goracke says.
"We'd have to drop the kids off and then go to a charging station. That would just be a pain because it's not like a gas where you can fill up in a few minutes. And most charging stations aren't set up for a 42-foot-long bus, so our options would be limited to commercial stations," Goracke noted.
So, for the time being, Sterling uses the electric buses primarily for daily routes that get students to and from school and continues to rely on diesel buses for most other trips. But growing pains aside, the Clean School Bus Program appears to have provided a welcome opportunity for districts to implement new and beneficial technology well ahead of what district resources would have made possible.
The roll-out nationwide
One area where the initial round of funding from the Clean School Bus Program fell short is that many large urban districts weren't able to participate. A weighted lottery system that prioritized districts serving at-risk and marginalized communities was used to determine who received the initial round of funding, which resulted in 99% of the districts selected being identified as priority areas benefitting low-income, rural, and/or tribal students.
The few larger and more urban districts that were selected for funding have yet to see their orders delivered, but they will soon be on their way. Houston ISD expects to be able to add the 25 new low-emission buses it ordered with funds from the 2022 Clean School Bus Program to be deployed in January or February of 2024.
Other large school districts like Los Angeles Unified School District and Chicago Public Schools were not considered priority districts in 2022, because even though they serve low-income urban neighborhoods, the overall socio-economic makeup of the districts disqualified them from receiving priority status. As a result, the parameters of priority status have been tweaked for 2023 to open up funding for larger districts.
"Large school districts with communities of concentrated poverty also will be prioritized if their application focuses on clean school buses serving those communities," the EPA said in a statement announcing the 2023 Clean School Bus Program, which will provide an additional $500 million in funding through 2026.