Dad Builds In-Home Blockbuster Video for Autistic Son
But does he charge late fees?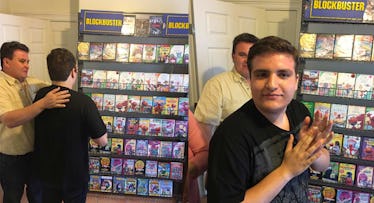 Blockbuster Video stores are, obviously, a dying breed. It's no surprise, as the once-mighty rental store has little place in our Netflix-ized world. So when the Mission, Texas, Blockbuster Video store closes its doors for good this Friday, few will feel the impact. For Hector Zuniga, however, the loss is devastating. The 20-year-old, who has autism and is nonverbal, has made renting videos part of his daily routine since he was 13. To help his son maintain a semblance of order (and brand loyalty), Hector's dad decided to be the blue polo he wanted to see in the world and opened a mini-Blockbuster right in their home.
"My autistic brother was sad that Blockbuster was closing down," Hector's brother Javier posted on Twitter. "So my parents made a mini one at home for him!" As the now-viral post shows, the video store replica is surprisingly legit, complete with the classic blue and yellow branding and alphabetized rows of DVDs. (No word on whether or not it has that classic popcorn-carpet smell, though.) Hector's dad filled the display is filled with the films Hector regularly chose on his daily trips to Blockbuster, mainly Elmo, Barney, and VeggieTales titles. In an interview with CNN, Javier says the display took his dad only 45 minutes to make. Who knows if he'll be charging late fees, but it's still a pretty big dad-win no less.
[H/T] CNN
This article was originally published on