6 Things Every Parent Should Know Today
Including the way you should have been washing your hands this whole time.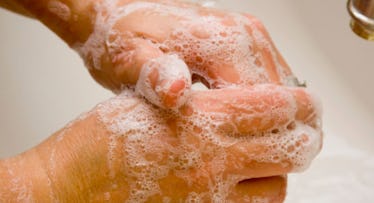 Every day, the internet is pumped full of brand new funny, informative, and game-changing content that parents need to know. The only problem? To find the good stuff you need to sidestep over a bunch of nonsense. In hopes of helping, we've created this daily roundup. It offers some interesting findings, relatable stories, and other links that we hope makes the Herculean task of trying to raise a well-adjusted human being a bit easier. Today's offering includes how to stop a bed from creaking during sex and the way you should have been washing your hands this whole time.
Know How to Stop a Creaky Bed During Sex
For parents, nothing ruins a night of romance quicker than a bed that won't stop squeaking. But what's a frustrated couple to do? Turns out, plenty. We spoke to several mattress experts and got the low down on how to put a noisy bed to, well, bed.
A New App That Forces Your Kids to Text You Back
If there's one thing kids love more than texting, it's ignoring texts from their parents. One dad, miffed by his son's lack of communication, took matters into his own hands and developed ReplyASAP, an app that makes damn sure a kid never forgets to reply to dear old mom and dad.
The Best Family Cars and SUVs You Can Lease for Less Than $250 a Month
As your family grows, your life needs change. More often than not, that means having to rethink your choice of car. Maybe it's time to consider leasing a car. For families ⏤ growing families, in particular ⏤ it can make a lot of sense.
How to Not Pull A Hammy When Playing Backyard Football
You might think only pro football players suffer hamstring injuries, but they're also highly common in runners, cyclists, and dads performing impromptu backyard end zone dances. To make sure your hamstrings don't seize up, we reached out to Marty Velasco, CPT, owner of Fitness Edge in Cleveland to offer up some hamstring exercises the average guy should add to his routine.
Know How to Teach Your Kid to Wash Their Hands the Right Way
Is there anything in the world simpler than washing your hands? You just turn on the hot water, get some soap, and clean. Alas, nothing in science is simple. According to new research, length of wash plays a more significant role in hand cleanliness than water temperature.
How to Talk Politics With Your Family
When it comes to family, you know you're better off avoiding political talk at all costs. But the folks over at Vox spoke with psychologist Vaile Wright, who argues you're better off engaging politically with your family, even if you all disagree. It's well worth a read.