6 Things Every Parent Should Know Today
Including how to have sex when you're really tired.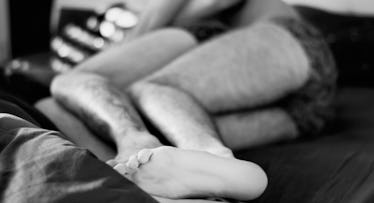 Every day, the internet is pumped full of brand new funny, informative, and game-changing content that parents need to know. The only problem? To find the good stuff you need to sidestep through a bunch of nonsense. In hopes of helping, we've created this daily roundup. It offers some interesting findings, relatable stories, and other links that we hope makes the Herculean task of trying to raise a well-adjusted human being a bit easier. Today's offering includes some advice on how to have sex when you're really tired and an investigation into whether or not baby powder causes ovarian cancer.
Does Baby Powder Cause Cancer?
Johnson & Johnson lost a $417 million lawsuit on Monday to 62-year-old Eva Echeverria, a woman who claimed that her daily use of the company's talc-containing baby powder gave her ovarian cancer. Although Echeverria and her lawyers demonstrated to the satisfaction of a jury that baby powder causes ovarian cancer, experts remain unconvinced.
5 Summer Dangers That Aren't Really Dangerous
Parents love to worry, but most of the time parents worry because they're misinformed and have no idea what actually represents a threat to their children. Here's a list of terrifying summer dangers that parents really need to stop worrying about.
The Art of Having Sex When You're Really Tired
There was a time when you would happily have chosen a night in the bone zone over getting to bed at a reasonable hour. But as a parent, sleep sits above sex on your bedroom to-do list because, well, you need those Zzzzs. But being tired doesn't mean you can't make time for getting it on. Here are five tips for having great sex when you're tired.
Nintendo's Mini Super NES Classic is Back
Pre-orders for the highly anticipated Nintendo Super NES Classic Edition went on sale last night on Amazon and Best Buy and were sold out within minutes. But fear not. You still might have a chance to get your copy of the beloved classic gaming system. Target, Walmart, GameStop, and Toys 'R Us could begin selling the $80 version the popular '90s Super NES at any time.
The Weird Truth About Your Spouse's Bacteria
A recent study found that cohabiting, sexually active couples share billions of bacteria. But the sharing is not happening on your thighs. It's happening on your feet.
There's a Company That Will Observe You 24/7 To Improve Your Parenting
New York Magazine's The Cut has an exceptional piece about Cognition Builders, a new company that promises to help parents with troubled kids by watching them parent via a setup of Nest Security Cameras. It allows doctors to observe you and your family interacting in your natural habitat, which could be invaluable to your family's well being. But it comes at a steep price