5 Things I Learned From Being An Autism Dad
Chances are you have a child, or know a child, with autism. If you do, I hope these help.
by Lee Bezotte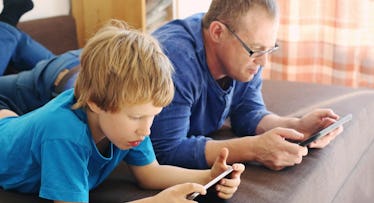 Recently, it was my son's 18th birthday. It really doesn't seem real that I now have two adult children. Both of my adult children are on the autism spectrum, which poses certain challenges when it comes to leading them to a life of independence. Let's just say, it'll be a while before I get to turn one of their bedrooms into a man-cave. But they're both great guys and I really don't mind having them around a few extra years.
I vividly remember gazing at my son, the one who just turned 18, when he was born, and imagining all of the wonderful things he would do when he grew up. I still believe he is going to do wonderful things, it's just that the road to Wonderfulthingsville is going to be more like a winding, speedbump-laden path than a straight-shot expressway.
Now that the boys are both considered adults, I figured I'd share a few things about what it's like to raise autistic children. With an estimated 1 in 10 children on the spectrum, chances are you have a child, or know a child, with autism. If you do, I hope these help.
You Wish You Could Do More to Help Them Make Friends
This has been one of the toughest things for me. My heart breaks on a regular basis when I see my son ignored or rejected by other kids. Autism isn't a visible, easily recognizable disability so other teenagers just tend to see him as weird or quirky. When they exclude him, he notices and it hurts. At youth group, he usually sat alone and came home feeling sad.
It's hard for him to make friends online as well. Having a very black and white outlook on life, he'll usually "call out" people for swearing or inappropriate behavior. As you can imagine, this opens the door for all sorts of negative reactions from people who don't understand the real person behind the avatar.
Since it's so difficult for my son to make friends, I try my best to be a good friend to him. I check in on him often, invite him to walk with me, and play games with him. He really is a treasure and I pray often for him to make good friends.
You Have to Learn a New Language
Imagine living with someone who only speaks Italian. You work hard at learning to speak Italian yourself, but then you realize that the person speaks Italian, but understands French.
Then you have to learn French, but don't get too comfortable because you might need to brush up on your German once in a while.
The point is, communication isn't always easy between myself and my son. I've learned to ask a lot of clarifying questions before responding to what he says to me. I've also learned that I can't always count on his tone of voice or body language to make things clearer. Unless he's angry. Then it's pretty clear.
I have to be patient, listen actively, and talk in ways that do not communicate too many ideas at a time.
Your Hopes and Aspirations for Them Have to Remain Fluid
We all have hopes and aspirations for our children. We dream of them becoming successful writers, pastors, entrepreneurs, doctors, and missionaries. Sometimes our children don't want to do the things we dream for them, and sometimes they just don't have the capacity.
When I heard about Temple Grandin and John Elder Robison, I thought, he could do something amazing! He might. Or he might not. Either way, I'm ok with it. He IS someone amazing and I love him no matter what.
Earlier today, I took him down to the local community college to get enrolled. He wants to be a medical transcriptionist. He has mad typing skills and I'm super proud of him.
You Have to Take Initiative for Them
My son likes to be alone in his room…a lot. He likes things with screens. He likes the computer, the phone, and the television. When company comes over, he goes to his room. It's not that he doesn't like company, or exercise, or creativity. He just needs someone to take him by the hand and draw him out.
For many autistic kids, hypersensitivity to the world around them is a problem and there's comfort in being alone and focusing on a screen to tune everything else out. If he hasn't gotten exercise in a while, I'll invite him on a walk. If there's a fun activity he might like, I have to encourage him to get involved. Sometimes he protests to playing a game or hanging out with the family, but he's almost always glad that he did.
You Have to Remember They are Fearfully and Wonderfully Made
I used to pray a lot that God would heal my son. I know now that he is just as God wanted him. As Temple Grandin says, "Different, not less." A disability is a bend in the road, not the end of the road. My son has taught me so much about childlike faith, friendship, and love. Being his father has made me a better person; more caring, patient, and kind.
I wouldn't trade the 18 years I've spent with him for anything. I see Jesus in him. I love the way he worships (he plays bass on the church worship team), I love the way he jokes with me (he has incredibly well-timed farts), and I love his smile. He really is fearfully and wonderfully made. If you have a child with autism, I hope you don't grow weary. Keep dreaming for him or her, and be an amazing friend.
This article was syndicated from Medium via Lee Bezotte.
This article was originally published on