Zoom Has Been Compromised. Here Are Our Options
Zoom's popularity has skyrocketed in the last few weeks — but is the video conferencing platform secure?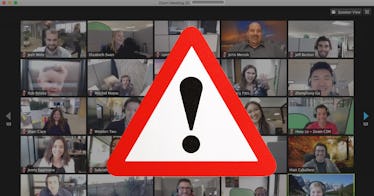 zoom.us
Zoom, the video conferencing platform that has exploded in popularity since more and more office workers and students have been quarantining and social distancing at home and as businesses and school buildings close, might have more problems than meet the eye. The platform — which had 200 million daily users in March, compared to the 10 million in the month before — has come into hot water after concerns about the privacy and security of the business and personal video conferencing platform have exploded in use thanks to the coronavirus pandemic.
The FBI released a warning about "Zoombombing," a form of cyber-harassment where hackers break into Zoom meetings, throw out racist slurs or stream pornography and genitalia to classrooms of minors or college students. The practice has become so prevalent that the FBI warned users of "multiple reports" of the trolling happening across the country. One teacher was hosting a class for her high school students when an unidentified hacker broke into her meeting and yelled her personal address. Another teacher had an individual join her class and displayed Swastika tattoos. In a classroom earlier this week in Florida, someone entered the room and showed off his genitals.
All of these incidents, as well as the FBI warning, make it clear that Zoom might not be as carefully encrypted or secure as it should be, especially in settings where large groups of minors might be online or where businesses might be discussing classified information. As a result of these increased attacks, and as more workers rely on the platform, Eric Yuan, the founder and CEO of Zoom, announced a 90-day plan to increase security and privacy of the platform. In the meantime, educators, parents, and employees likely want a better way to conduct meetings or educate kids safely. There are some alternatives, although no platform is perfect.
Google Hangouts Meet And Google Classroom
Google Hangouts has been a long-time classic for a reason, and due to the pandemic, Google gave all G Suite users the premium version of Hangouts Meet for free, which allows for up to 250 participants per call, meaning that major lecture halls or company-wide meetings are supported on the platform. Google Hangouts video can also be live-streamed to up to 100,000 viewers within a company domain and employees, teachers, and more can record the meetings and save them to Google Drive, which is great for teachers who want to save lessons or for workers who need minutes of their meeting.
Google Hangouts is a bit more secure than Zoom, but it's not foolproof. It encrypts messages but doesn't utilize end-to-end encryption. However, unlike with Zoombombing, where hackers enter numbers until they find a meeting to hack, Google Hangouts Meets and Google Classroom can be made to only be available to people within an organization, much like how many G Suite technologies work.
Google Classroom's security is of utmost importance — as internet safety for kids is a realistic, moral concern. Google Classroom is only accessible to people with emails within the organization, so, for example, only students with school emails can use the service within their organization. That makes it harder to hack into than, say, Zoom.
FaceTime
FaceTime is not a real dupe for Zoom, in that only Apple users can use the platform and it's limited to small group calls, it's still way more secure than Google Hangouts and Zoom. The platform offers full end-to-end encryption. Group FaceTime can support up to 32 people on a call, making it an okay plan for classrooms that might just have MacBooks or other Apple products and that are on the smaller side, or for companies that have Apple-issued laptops for small team meetings.
There have been calls to expand the video chatting and audio chatting software to Android and Windows, however, the calls so far have gone unheeded. Still, in a pinch, FaceTime is a doable option.
Skype
Skype is not an end-to-end encrypted video chat and messaging app, so it's not as secure as FaceTime or even the G Suite options like Hangouts Meet and Classroom. But it is encrypted between your device and Microsoft's servers, so it's not totally free for all. It's also entirely free, unlike Zoom boots free users out of video meetings after 40 minutes, and helps international callers make calls for free, which is great for people who work across country lines. Skype also has a group text chat interface that supports group chats of up to 150 people, which can make it good for note-taking in meetings.
Users can now host audio or video conferences of up to 50 people, record the calls, enable live captions and subtitles, as well, making it good for smaller classrooms and meetings, and can be used on computers, tablets, Xbox, and on websites, making it a good, cross-platform option for meetings and classes.
This article was originally published on