ZLINE Recalls 30,000 Gas Stoves Due To Carbon Monoxide Risk
ZLINE has issued a voluntary recall in coordination with the CPSC after receiving 44 reports of incidents where the oven emitted carbon monoxide.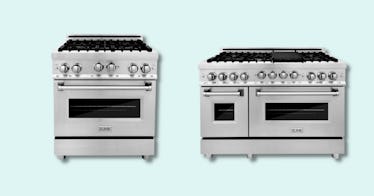 CPSC
A company specializing in home appliances has issued a voluntary recall for approximately 30,000 of its gas stoves. The recall comes after multiple reports of the appliance emitting carbon monoxide, a colorless, poisonous, and odorless gas found when you burn fuel in cars, trucks, in furnaces, and gas ranges, according to the recall notice posted by the United States Consumer Safety Commission (CPSC). Here's what you need to know.
ZLINE, a high-end appliance company headquartered in Lake Tahoe, Nevada, has issued a voluntary recall in coordination with the CPSC after receiving 44 reports of incidents where the oven (notably, not the range) emitted carbon monoxide, including three reports where consumers needed to seek medical attention.
ZLINE said via a statement posted to its website that the company is "aware that the oven component of select gas-on-gas ranges can emit dangerous levels of carbon monoxide (CO) while in use," adding that they recognize CO exposure can pose "a serious risk of injury or death from carbon monoxide poisoning."
The statement continued, "Because of this, we are choosing to conduct an immediate voluntary product safety recall in partnership with the U.S. Consumer Product Safety Commission."
Which stoves are included in the recall?
The CPSC outlines the products affected by the voluntary recall, which includes models with numbers RG48, RGS-48, and RGB-48. This recall expands on the previously recalled models, which included RG30, RGS-30, RGB-30, RG36, RGS-36, and RGB-36.
"The model number is printed on a label on the back of the range," the notice states. "For ranges purchased after 2020, the model number is also printed on a label underneath the right side of the range top, visible when the oven door is open. Only ZLINE gas ranges with these model numbers are included in this recall."
The ranges were sold in various colors, including white matte, red matte, red gloss, DuraSnow, blue matte, blue gloss, and black matte. They were also sold in various finishes, including cloudy steel, stainless steel, and black stainless steel, and three sizes, 30 inches, 36 inches, and 48 inches, were all included in the recall.
What should parents know about potential carbon monoxide poisoning?
According to the Centers for Disease Control and Prevention (CDC), symptoms of CO poisoning can be subtle and include headache, dizziness, chest pain, confusion, weakness, vomiting, and an upset stomach.
The CDC says, "if you breathe in a lot of CO, it can make you pass out or kill you. People who are sleeping or drunk can die from CO poisoning before they have symptoms."
What should parents do if they have this recalled stove?
According to the CPSC recall notice, parents who have one of the recalled stoves in their home are being asked to "immediately stop using the oven compartment of the recalled ranges until their oven compartment is repaired."
If you have one of the affected stoves, you can contact ZLINE to receive a free in-home repair by visiting their website and filling out the recall request form at https://zline.force.com/rgrecall/s/ or via phone at the toll-free number 1-888-359-4482.
What about all that gas stove drama?
In early January, CPSC hinted at the potential of banning natural gas stoves. "This is a hidden hazard," Richard Trumka Jr., a CPSC commissioner, told Bloomberg. "Any option is on the table. Products that can't be made safe can be banned." Trumka later walked back the statement — but it points to a real reckoning toward gas stoves and ovens and their safety in our homes.
An overwhelming amount of research points to serious health concerns linked to their use in the home. One study found they leak benzene, even when turned off. They've been connected to respiratory and cardiovascular problems in adults and children, and are linked to 1/8th of asthma cases in kids.
If you're in the market for a new range and oven, you should remember that Biden's Inflation Reduction Act includes an $840 rebate for a new induction range. However — if shelling out the cash for a new stove is unreasonable for you at this point, or if you rent and don't have control over the appliances in your home, you can still mitigate your risk and the risk your kids will face. Always turn your vent hood on if you have one when running the stove, run a fan while cooking, and open a kitchen window, if available.