No Joke: Ukraine's President Zelenskyy Is the Voice of Paddington
He was a successful actor before landing the role of president.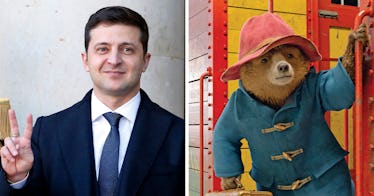 Chesnot / Contributor / Getty Images / StudioCanal
As the full-on invasion of Ukraine by the Russian government continues, the country's president, Volodymyr Zelenskyy, has been one of the most prominent faces of resistance. But it just so happens that, beyond standing upright on the global stage in the fight for Ukrainian sovereignty, he was also another important figure in the world, long before wartime. In fact, President Zelenskyy, who was an actor before he became the President of Ukraine, lent his voice to a loveable bear named Paddington in the Ukrainian version of the film.
Many of us have seen the Ukraine president over the past few days as he fights to keep Russians from overtaking the country. He's made some bold and brave decisions, and his actions are being watched all over the world. But while this may be the first many of us are paying attention to Zelenskyy, he's certainly not new to the spotlight.
Whispers started on Twitter that the Ukrainian president voiced an animated character once. Black List founder Franklin Leonard couldn't believe it – at first. "I need confirmation on the fact that Volodymyr Zelensky [sic] is the Ukrainian voice of Paddington," he wrote. "I repeat: Need confirmation that Volodymyr Zelensky [sic] is the Ukrainian voice of Paddington."
It didn't take long for confirmation to come. The voice of the loveable Peruvian bear was Zelenskyy, which was also confirmed in a statement to The Hollywood Reporter by Paddington producer StudioCanal.
While this seems like news to most of us, it wasn't a surprise to the people in Ukraine. Before Zelenskyy became president of Ukraine in 2019, he was a well-loved entertainer, a popular and successful comedian. In his pre-presidential career, one of the roles he took on was as the voice actor for Ukraine's version of the 2014 animated film Paddington, and the follow-up movie Paddington 2 in 2017.
He also competed, and won, the country's version of Dancing with the Stars, and starred in the very successful satire series called Servant of the People. In that role, Zelenskyy plays a schoolteacher who went viral in a video where he rants about corruption and inadvertently becomes Ukraine's president. That role launched Zelenskyy's real-life political career.