Your Vinyl Record Collection May Have Just Tripled In Value
A tragic fire means that new pressing of vinyl records will decrease, world wide.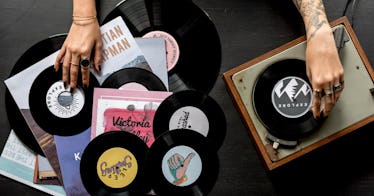 If you're the kind of person who loves listening to music on an actual record player, there's good news and bad news. The bad news is that there might suddenly be a worldwide vinyl record shortage. The good news is that this may increase the value of the vinyl records you already own. Here's what's going on.
On Friday, Pitchfork reported that Apollo Masters — a manufacturer of lacquer — had a fire that completely destroyed their facilities. This means that one of the only makers of lacquer in the world is not in a position to help create new records. According to Ben Blackwell (quoted in Pitchfork), "this fire will present a problem for the vinyl industry worldwide."
Why? Well, although the early 21st century has seen a spike in the vinyl record industry, the fact is, it's still relatively niche. This means, beyond Apollo Masters, the only other major producer of lacquer is a company called MCD, based in Japan. And according to Blackwell, they had a tough time keeping up with demand even before this happened.
Though we're not experts, it stands to reason that if there is a slow-down in the pressing of new vinyl records, that means the second-hand market for newer stuff will probably get a little bit hot. The last time I hit record store day, I scored a new Noel Gallagher EP and a reissue of the Star Trek 2009 score for under twenty bucks. (These were brand new, by the way.) But, that was on record store day, when everyone is running discounts. Last week, when I was eyeing that new Beatles Abbey Road reissue, I wasn't really sure I could afford the $74 bucks. But now, I'm worried that even second-hand copies of that set will end up costing even more. If less 21st-century vinyl exists in general, and it's about to get even scarcer, then it seems newer pressing will, on some level, become more valuable.
Will vinyl junkies be making a run on stores that sell new records this weekend? We'll have to wait and see. But, if your partner also loves records, is buying a bunch of new vinyl for Valentine's Day such a terrible idea?
This story is developing.
This article was originally published on