Young Kids Could Get COVID Vaccine Approval By End of 2021
Dr. Fauci said that very young children could be approved for the vaccine by the fall of 2021. But will they get it?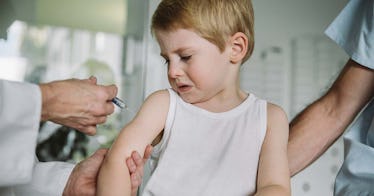 At a virtual event with
Axios on Wednesday, May 20th, Dr. Anthony Fauci, who has been a public-facing leader on the United States' response to COVID-19, stated that kids as young as four could be approved to get the COVID-19 vaccine by the end of 2021 or by early 2022 at the latest. At the event, he said that kids that young "would likely be able to get vaccinated by the time we reach the end of calendar year 2021 and at the latest, into the first quarter of 2022," per NPR. The announcement that young kids could soon get approved for the vaccine comes at a time when children 12 and up are recommended to get vaccinated against the deadly virus as soon as they can; and as Pfizer, Moderna, and Johnson & Johnson conduct clinical trials of their vaccines on kids as young as six months old. While the news is great news for parents who are concerned about their young children turning to the full suite of normal life, going back to school, and being inoculated against a virus that has killed nearly 600,000 Americans, it's also likely to run headfirst into a major problem: many parents are not interested in vaccinating their children immediately, and in many states, kids and teens can't get vaccinated without parental approval. While those COVID-19 vaccines being held up by parental approval is far more of an issue for teenagers than it is young children, for clearly obvious reasons, it's a sign that the simple approval, safety, and efficacy of the COVID-19 vaccines for young children is only one problem — encouraging parents to get their children vaccinated is another altogether. In fact, Fatherly reported that only one-third of parents featured in one study were interested in getting their child vaccinated right away if or when the vaccine is approved for their age range. On the other hand, of course, herd immunity as the ultimate goal has begun to be dispelled by public health experts who have instead targeted a far more reasonable goal — inoculating as many people against COVID-19 to protect them from serious illness and/or hospitalization as possible. And that includes children, who, though they are at a much lower risk of dying of COVID-19 than adults, are not at zero risks.