Kids' Cannabis Edibles Exposure Grows By 1,300% In Just 5 Years
But for kids the health risks are more serious than an unintentional buzz.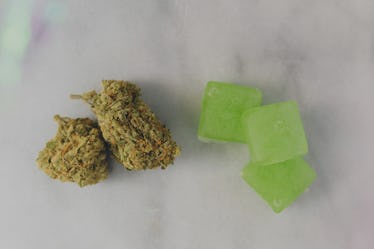 Jamie Grill/Photodisc/Getty Images
As more states continue to legalize and decriminalize marijuana, reports of children in exposed to cannabis after accidentally eating an edible are rising, according to a new study in the journal Pediatrics. An analysis of records from the National Poison Data System showed more than 7,040 reported exposures to edible cannabis in kids under the age of six between 2017 and 2021 — an increase of over 1,375% in just five years.
The analysis backs up what some physicians have been seeing in the field as more recreational cannabis products make their way to market.
"Honestly, we knew it was increasing. I work in the [emergency department] as well as taking calls for the poison center, and so even though I was seeing more cases coming through the ER, when we looked at the data nationwide, we were definitely surprised," study co-author and emergency medicine physician Dr. Antonia Nemanich told CNN.
In nearly a quarter of the reported exposures, children were admitted to the hospital with both a significant increase in intensive care as well as non-intensive care admissions. The CDC notes that consuming marijuana can cause kids to have difficulty walking, sitting up, or breathing.
Accidental ingestion of cannabis and marijuana is a higher-stakes situation for kids than for adults. Kids are more likely to experience problem signs given their lower body weight such as vomiting, dizziness, difficulty walking, a rapid heart rate, drowsiness, confusion, and breathing difficulties. Children can also experience the same effects as adults such as blood-shot eyes, increased appetite, dry mouth, and decreased coordination. Lingering health effects typically will last 24-36 hours. The long-term effect of acute marijuana exposures on children is unknown, as it has not been systematically studied.
Compounding the issue is that industry standards for packaging and marketing allow cannabis edibles to be marketed in ways that can be confusing to kids. According to a recent survey in the journal Drug and Alcohol Dependence, 8 percent of the 267 edibles examined were copycats or lookalikes of popular snacks. And whereas kids might be used to popping handfuls of gummy bears into their mouths — especially when they stumble on some that they're trying to eat before mom or dad find out — one or two gummy edibles typically contain enough cannabis for an adult to achieve a desired high.
"My stance is that it is not a problem that these products are legalized, but the problem is that they're not packaged the way drugs or medications are packaged. We have a lot of safeguards in place for that," Nemanich said. She suggests that, like prescription drugs, edible cannabis products should come in simple, neutral, opaque white packaging.
While some states, including Colorado, Washington, Oregon, and Alaska, have passed legislation in an effort to prevent THC poisoning, The American College of Medical Toxicology has called for industry-wide changes to packaging so kids don't confuse edible marijuana products with regular treats and so that they are also much more difficult for kids to access.
In its position statement addressing pediatric cannabis exposure, the association also encourages adults to not use cannabis products in front of their children.
That's because, in particular when it comes to edibles, "children learn from watching adults that products are safe to eat." They — along with the CDC — also strongly suggest that parents store cannabis products far out of the reach of children and in childproof containers.
And regardless of whether or not you use marijuana recreationally, it's important for all parents to have intentional conversations with their kids about the drug in the same way you would with guns, fireworks, or alcohol. Because they're likely to come in contact with it at some point and making sure they aren't totally in the dark might keep them from getting into something they just aren't ready for.