"You Can Have a Kid or Job" Perfectly Explains Parenting Right Now
There's really no way to overstate this: The pandemic has revealed how much the American economy cares about families. (Hint: Very little.)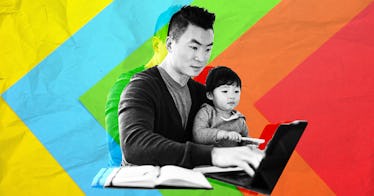 In Ray Bradbury's non-fiction book Zen and the Art of Writing, he reveals how he once tried to write in his garage during the summer but quickly became distracted by his kids wanting to play with him all the time. Bradbury was a good dad, and so, he played with his kids when they came to bother him in the garage, even if it meant his writing didn't get done. In the essay "Investing Dimes," Bradbury reveals his solution was to create a kind of office for himself away from home where he could get some work done. And so, he retreated to a library where he could rent typewriters by the hour by popping in a dime. The result was the novel Fahrenheit: 451.
I'm no Ray Bradbury, but I am a writer, and writing for the internet is my job. I've been working from home on and off since my daughter was born in 2017, and before the COVID-19 pandemic struck, I also faced this problem: Writing in the garage just doesn't work because my kid is just too damn cute. And so, I started renting a desk at a local co-working space. But then, COVID-19 happened. And now, like so many working parents across a variety of professions, I'm back to working at home, which means the work I'm doing is constantly being put in conflict with my parenting. In a new piece for the New York Times, writer Deb Perelman puts it like this: "In the COVID-19 Economy, You Can Have a Kid or a Job. You Can't Have Both."
That's a headline that captures the story — the story of parents right now — and it started a huge trend on social media the second it was published. It's so obviously true it's not even funny. People like Perleman, myself, and the late Ray Bradbury are somewhat lucky compared to most American parents insofar as I can type this little essay out on the back steps of my house, hunched over, while my toddler is sleeping and my wife is getting some much-needed downtime. But my working hours are all over the place. There's never really a time I'm not working and that also means there's never really a time when I'm being present for my kid either. This is what the COVID-19 economy has done for parents in all kinds of professions. It's turned us into people desperate to hold onto our jobs, but unsure how we're going to do it.
As Perelman points out, when and if public schools re-open, it won't be easy on parents to make decisions, and yet, the outrage is almost non-existent. "Why isn't anyone talking about this?" she writes "Why are we not hearing a primal scream so deafening that no plodding policy can be implemented without addressing the people buried by it?"
Why not indeed? Perelman's main points are familiar to most parents. While there's a giant public debate over how one should behave, there's a reality edging closer to parents' viewpoint; which isn't about what should happen, it's more about what will happen. "I resent articles that view the struggle of working parents this year as an emotional concern," she writes. "We are not burned out because life is hard this year. We are burned out because we are being rolled over by the wheels of an economy that has bafflingly declared working parents inessential."
Which is pretty much what has happened at this point. Parents need to keep making money to keep their families going, to keep their kids safe. But there's no real infrastructure from our governments and institutions to help us figure that out. Despite centuries of so-called "progress," families are essentially still on their own when it comes to figuring out how to fend for their kids. On some level, we know this, and it's what we signed up for. But what the world seems to have forgotten is that it's very obviously not even remotely fair. The economy has always been situated to basically scam American families, but what the pandemic has revealed is just how deep that scam goes.
Everyone who is living now had parents of some kind. The kids of today, the kids we are fighting for in this pandemic have an uncertain future. And that's because parents are invisible workers. Relatively speaking, Bradbury had it easy. This generation of parents has it bad. And it's only when everyone admits it that things will get better.
This article was originally published on