Watch The Famous Katmai Bears Gorge On Salmon — Live!
It's the live stream you didn't know you needed.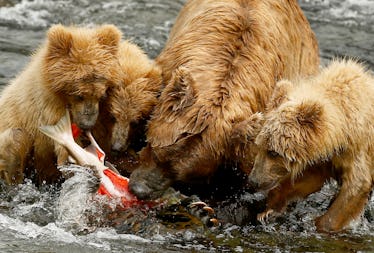 Luis Sinco/Los Angeles Times/Getty Images
If you and the kids love nature, there's a new National Parks livestream you can add to your watch rotation. The world-famous fat Katami bears finally have cameras on them this summer season, so that people who live outside Alaska — or those who aren't traveling to the state or its many National Parks anytime soon — can enjoy watching these adorable creatures fatten up on salmon before Fat Bear Week. Here's what you need to know.
According to EarthSky, later this year will mark the 11th season of Fat Bear Week, which starts in the fall of 2023 at Katmai National Park in Alaska. The livestream cameras only add to the fun and anticipation of Fat Bear Week, the annual autumnal voting competition where audiences pick the fattest bear at Katmai.
This year, the park has its live streams open so people all over can watch bears fatten up before the famous competition, as the salmon that swims in the water become readily available.
"Watch salmon leaping up the falls while brown bears compete with each other for the best fishing spots," the livestream description touts. "The largest and most successful bears can catch and eat more than 30 salmon (over 120 pounds) per day!"
Fat Bear Week is "held over the course of seven days and concluding on the Fat Bear Tuesday." During this competition, viewers choose "which bear to crown in this tournament style bracket where bears are pitted against each other for your vote," the National Park Service shares.
And although it sounds all easy-going, drama is found in scores during Fat Bear week. Last year's annual competition landed itself in a little scandal after uncovering ballot stuffing to sway which bear and person won in the end. NPR explains that the park found the virtual ballot box had been stuffed at the last minute, which led to the wrong bear being crowned the winner.
If you're interested in seeing the bears eat mountains of fish and try to guess which bear will become the largest at the end, you can follow the live streams on Explore.org.