Wu-Tang Yard Signs Are Replacing Biden, Trump Signs Across America
Before you buy one, think of what making a joke out of this presidential election might say about you.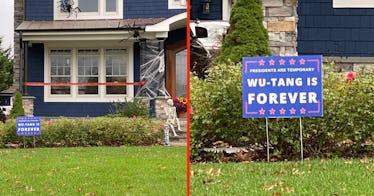 reddit/owjim
Two days ago on Reddit, a post hit the front page of a random Redditor's neighbor's yard. The yard, which was generously decorated with Halloween-themed decorations, also featured a yard sign that at first glance looks like a Trump-Pence presidential yard sign. But instead, it was actually a Wu-Tang yard sign, that didn't endorse a presidential candidate who is actually in the running but displays the following message: "Presidents are Temporary, Wu-Tang is Forever 2020." The post got nearly 26,000 upvotes on Reddit and while most Redditors thought it was funny, a fair number of Redditors wanted to know exactly where they could find the yard signs to adorn their own lawns in lieu of a serious political endorsement. It appears that folks on Reddit are not the only fans of the joke-yard-sign in one of the most monumental elections in our lifetimes.
The yard signs go for about $27 a pop on Amazon, and they can also be found on eBay and Etsy. On Amazon, the yard signs are going so fast that they've attached a warning to the description of the product. "Due to high demand, we go into production and ship as fast as possible. Within an hour of ordering, we are moving your order into production. DO NOT ORDER IF YOU'RE NOT SURE. WE DO NOT PAY FOR RETURN SHIPPING UNLESS WE ARE REPLACING AN ITEM DAMAGED IN TRANSIT," the Amazon vendor warns.The Wu-Tang signs have become a fixture in neighborhoods across the country and anecdotally, I've only noticed them in white, suburban neighborhoods where the people who buy the signs are likely the most unaffected by political turmoil and probably have no personal connection to Wu-Tang's music, their messaging, or what it means to be Black in America. And while joke signs are basically harmless, these, like the signs that say "ANY FUNCTIONING ADULT 2020" OR "DOGS BECAUSE HUMANS SUCK 2020" feel particularly tone-deaf this year, where over 200,000 people have died due to a preventable pandemic, where democracy is on the brink of breaking, and where it's most likely more important than ever to take a stand about who deserves to lead our country out of economic rubble, a raging pandemic, and destroyed relationships with international leaders. So, yes, presidents are temporary, and indeed, Wu-Tang is forever. But if you're an upper-middle-class white person who owns your home, and most likely benefited from the Trump tax cuts, and more likely than not, you don't know anyone who has contracted COVID-19 because you're lucky enough to not have to work in person, and you still have your job, maybe it's better to remember that while presidents may be temporary, they can cause tremendous harm in the four to eight years that they do have in the Presidential office. Maybe it's better to take the whole thing seriously. And it would be another thing if the yard signs were being sold by the members of Wu-Tang themselves, or was financially benefitting Wu-Tang, but it doesn't appear to be the case. Instead, the yard signs on Amazon are being sold by Graphix Unlimited, who sell any number of bumper stickers, yard signs, and more.
This article was originally published on