The 10 Most "Liveable" Cities All Have One Important Thing in Common
It turns out that when it comes to cities that have it together, a strong government really matters.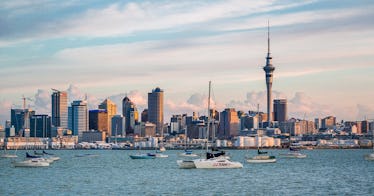 These past few years have been a whirlwind and we've had to navigate so much more than we thought. With restrictions due to the pandemic, and everything in between that was impacted, many of us got a major dose of reality on how our city, state, country, and neighborhood prioritizes the wellbeing of everyone. Which, turns out, to be a contributing factor in determining which cities are considered "most livable" in the world.
The Economist Intelligence Unit (EIU) released its Liveability Index, which examines 140 cities worldwide. Each city was assessed to quantify challenges presented over the past year, including the disrupting COVID-19 pandemic.
"Each city is assigned a liveability score for more than 30 qualitative and quantitative factors across five categories: stability, healthcare, culture and environment, education and infrastructure," EIU explains. Those numbers are then tallied, and each city is given a score out of 100.
Due to the pandemic and the impact that had all over the world, the EIU added new indicators to its factors including restrictions around theaters, schools, music concerts, sporting events, and theatres, plus the stress on health care resources.
And the cities that land in the top spots are there in large part due to its successful approach to COVID-19, according to Simon Baptist, the global chief economist at the EIU.
"There's been quite a big shake-up in terms of, certainly the top 10, but also right throughout the ranking, based upon the Covid-19 situation," he told CNBC.
The world's top 10 most livable cities in 2021:
Auckland, New Zealand (96.0)
Osaka, Japan (94.2)
Adelaide, Australia (94.0)
Wellington, New Zealand (93.7)
Tokyo, Japan (93.7)
Perth, Australia (93.3)
Zurich, Switzerland (92.8)
Geneva, Switzerland (92.5)
Melbourne, Australia (92.5)
Brisbane, Australia (92.4)
Topping the list is Auckland, New Zealand which got its high score mostly based on its approach to the COVID-19 pandemic. Australian cities saw more entries on the top ten with four entries – Adelaide, Perth, Melbourne, and Brisbane.
European cities saw fewer entries on the top 10 than previous years, and this is likely due to the spike of COVID cases and how restrictions impacted its livability score. And, as you can see, the United States didn't place at all.