This 850 Pound Pot Brownie Is the Equivalent of 4,000 Normal-Sized Ones
"I'm not feeling it yet."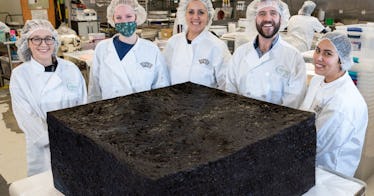 Jon Simon
A team of cannabis confectioners have created a massive pot brownie that even the biggest stoner in the world would have a hard time finishing. The 850-pound marijuana-infused treat is three feet long and three feet wide. It contains over 20,000 milligrams of THC. Yeah.
The super special brownie was created in Norwood, Massachusetts by MariMed, a multi-state cannabis operator, in celebration of National Brownie Day (December 8).
According to MariMed official Ryan Crandall, the brownie took more than 24 hours to make and came with some surprising challenges.
"One of the hardest parts was stabilizing the brownie," Crandall told HuffPost in an email. "We built a pallet and some supports to fortify the table it sat on to ensure the 850-pound brownie was safe." 85o pounds of weed-infused brownie batter does sound like a real hassle to clean up, after all.
If you are looking to do something like this at home, for whatever reason, you are likely going to have to hit up every grocery store within a 25-mile radius. The brownie required 1,344 eggs, 250 pounds of sugar, 212 pounds of butter, 81 pounds of flour, and 122 pounds of cocoa powder.
(If you have kids, you might not want to do this. But it's fun to dream. And remember: safe weed storage is super important.)
Not to mention the amount of THC you'll need, though Crandall says that it's not too much weed for one person to consume (though it is the equivalent of 4,000 brownies that MariMed usually sells). The plan is to sell the mega-brownie to a medical marijuana patient in Massachusetts.
"The 20,000 mg of THC in the brownie actually falls within the max allowed for a medical patient in the state," Crandall said.
Despite being more than three times heavier than the current record-holder for the world's largest brownie (243 pounds), MariMed's creation will not be showing up in the Guinness Book of World Records anytime soon. A rep from the company said they reached out to Guinness but were told it "no longer accepts applications or creates new record titles that are related to the consumption, preparation or use of tobacco, cannabis or nicotine products."
This article was originally published on