"Fastest Lawn Mower" Record Is Way Faster Than You Think
Ultimate bragging rights didn't come cheap.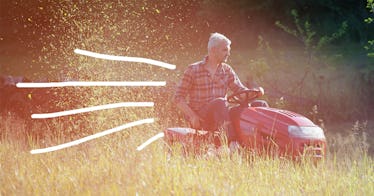 Tony Edwards, who lives in the UK, is sure to be the talk of his neighborhood. He just won a world record that is the biggest dad move – the ultimate bragging points. Tony recently set the record for the world's "fastest lawn mower," and he built it himself.
Tony is a retired air conditioner engineer and dad with four kids. He used his experience and skills to claim the Guinness World Record. Recently, he took his homebuilt lawn mower to Elvington Airfield in York, UK, to test how fast it is before proving that it can also cut grass.
According to The Sun, the previous record for the fastest lawn mower was 133mph. Tony blew past that, clocking in at 143mph. His world record-breaking lawn mower took him two years to build. Tony completed his build in April 2021 and made his official try for the record in August 2021.
His path to the ultimate dad record didn't come cheap, though. Tony admits he spent close $41,000 in his quest to break the Guinness World Record.
Tony has named his lawn mower "Mowabusa." To build it, he used a 1300cc engine from a Suzuki Hayabusa superbike. He also used the front suspension from a car and a trike conversion kit in the back.
"It was a lot of effort and took two years' work," he told The Sun. "My wife Jayne really didn't mind. It kept me out her hair."
Looking into the Guinness World Records, it turns out there are several that relate to a lawn mower. Other people hold similar records, including the longest lawn mower ride, the largest collection of vintage lawn mowers, and the largest lawn mower parade.
Now that Tony has achieved the dad flex, what is he going to do now? He's not sure, telling The Sun, "I'll just have to find something else to do now!"