Kylie Jenner's Son's Full Name Is Full of Easter Eggs
It's a sweet nod that is unique in its own way.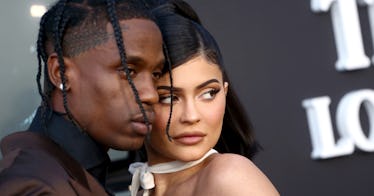 Tommaso Boddi / Stringer / Getty Images
Kylie Jenner and Travis Scott recently welcomed their second baby, a little boy they named Wolf, on February 2, 2022. And keeping with the trends of the Jenner-Kardashian family, the name they chose for their little one is as unique as their first child's name. But unlike their oldest child, the new parents opted to give their son a middle name. And it's the typical atypical name we would expect.
Kylie and Travis welcomed their son, Wolf Webster earlier this month. Joining his older sister Stormi, fans weren't surprised that the parents went with a name that's more unique. But what was surprising about their son's name is that he was also given a middle name — although Stormi was never given one, at least to our knowledge.
According to TMZ, Wolf's birth certificate states he was given the middle name Jacques. According to Nameberry, a baby name meaning website, the name Jacques is a "classic French name that becomes pretentious when used for an American baby." While the Nameberry definition is, well, pretty judgy, the French language name fits the bill for an already unique name. But Jacques is most likely a nod to Travis.
According to People, Travis's birth name is Jacques Webster, who himself was named after his dad, too. It's typical for baby names to be passed down the generations and it's a sweet nod to family. So in so many ways, it's actually super traditional… and full of Easter eggs.
Beyond his name, Kylie and Travis haven't shared too much about Wolf. Their baby announcement featured his birth date, a blue heart emoji, and the photo of what looked l like Stormi's hand holding Wolf's.
This article was originally published on