Will Arnett Made Up a Scary Lullaby to Get His Kids to Sleep
The 'Bojack Horseman' actor explained his unconventional methods to Jimmy Kimmel.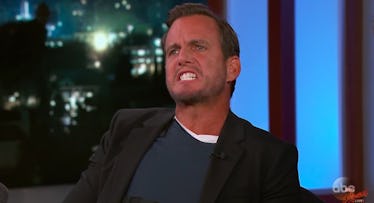 Jimmy Kimmel Live
Every parent has their emergency tactic for getting a stubborn child to bed — some more unconventional than others. Last night, Will Arnett explained his method to Jimmy Kimmel, which is unconventional and, well, a little morbid. But hey, if it works.
Arnett explained that his two boys, Able and Archie, are in the habit of refusing sleep. Frustrated, he came up with a lullaby to encourage them to take bedtime more seriously: "It's time for bed for my sweet boys. Put away their things and all their toys because the TERROR OF NIGHT IS UPON US!" Arnett sang, putting his trademark gravely vocals to great use.
And while Arnett says the song definitely spooked his sons, it also helped them go to bed.
But fear seems to be a consistent part of Arnett's off-kilter parenting tactics, as he also told Kimmel about how he will use the iconic "Braaaam" sound from Inception to scare his sons. Arnett explained that sometimes he will play the infamous noise on his phone and then round the corner with the scariest face possible in order to freak out his boys.
Arnett described the entire experience as fun and Kimmel, the man behind approximately half the pranks on the internet, wholeheartedly agreed that scaring kids is one of the big perks of being a parent.
"What point is there to have kids if you can't terrify them?" Kimmel asked with a laugh.
This article was originally published on