Will a Second Stimulus Payment Hit By August?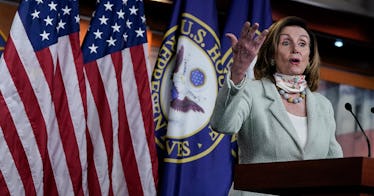 Getty
Should American families expect another round of stimulus payments before the end of the summer?
Since the pandemic hit, the federal government has only approved one round of direct cash assistance to American citizens and their dependents. That money, which was administered through the CARES Act, gave most American households $1,200 per adult worker and extra cash for dependent children. Although the cash was much appreciated, the economy is still in freefall, and many politicians, policymakers, and Americans have clamored for more help in the midst of mass unemployment and a crashing economy.
Mitch McConnell and the president have signaled that they are open to the idea, and subsequent negotiations between Senate Republicans and the White House yielded a proposal that would duplicate the CARES Act payments while declining to extend the additional federal unemployment benefits created by that law.
Then there's the HEROES Act, or the Health and Economic Recovery Omnibus Emergency Solutions Act. It was passed by the Democratic House in May and has been languishing on the Senate floor since. Its stimulus would extend to those without a Social Security number and include more money — $1,200 instead of $500 — for both child and adult dependents.
Experts suggest that the second stimulus check would likely have to pass before August 8, the last day Congress is in session before a one-month recess. Any act that would give cash to Americans or stimulate the economy that isn't passed before then might not pass after recess because momentum for the bill will likely have stalled out, leaving stingier lawmakers with an excuse to not dish out cash to America's vulnerable.
Still, if a second stimulus payment does make it into law, it would be an enormous help to families, expanding the pool of those who can receive benefits who were excluded from the last bill and putting more money into American pockets.
This article was originally published on