Why Some Families Are Hit So Hard By COVID-19
Multigenerational households are at high risk of transmission of COVID-19.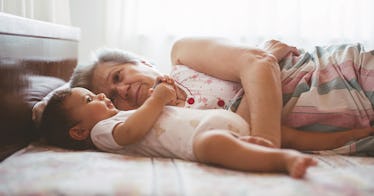 As cities and states across the country begin a slow path to reopening their economies and their livelihoods after Coronavirus-related economic shutdowns and stay-at-home-orders, it's clear that one subsect of Americans has been hit very hard by the ongoing pandemic and crisis: families who live in multigenerational households. It turns out that, even in very crowded cities, neighborhoods with a lot of people don't emerge as virus hotspots so much as neighborhoods where people live in crowded homes or multigenerational households.
Per the government and most housing data, a "crowded" home is a household in which there is more than one person per bedroom. Four million American homes are "crowded" according to these metrics. One study by Johns Hopkins University which analyzed about 1,500 US counties with at least 50 confirmed cases found that 10 percent of the counties with the highest rates of crowding within households counted for at least 28 percent of the covid cases.
Going further, the study also found that places like New York City, the neighborhoods that have been hit the hardest in the city aren't the most population dense but those that have the highest percentage of intergenerational households. Zip codes with the largest share of households, per the study, of at least five people or family members, disproportionately represent confirmed Covid-19 infections.
This explains, at least in part, why communities of color have been hit so hard by the virus. According to PEW Research Center, black and latino Americans are twice as likely to live in intergenerational or so-called "crowded" households than white people, and they are far more likely to have jobs that are essential, meaning that they are out in public and at risk of catching the virus over those who have the luxury to work from home.
It also explains in part why Italy, despite having a modern and efficient healthcare system, was so overwhelmed by the virus. Multigenerational households are exceedingly common in the European country and one study found that one in five people who had Covid were most likely infected by members of their family.
After all, even if someone gets the virus, if they share a room with someone or live in a household with plenty of other family members, perfectly self-isolating is exceedingly difficult and maybe even impossible. In Kansas, where meatpacking factory related outbreaks have decimated the state's coronavirus numbers, 18 percent of households have five or more people and 7.1 percent of households are considered 'crowded,' making the scourge of cases and rate of community transmission make a lot of sense.