Why Disney Changed 'Wreck it Ralph 2' at the Last Minute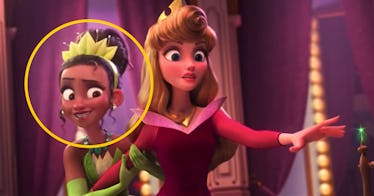 Disney
The impending sequel to the 2012 movie/ animated video-game love letter, Wreck-It Ralph caused tons of Disney fans to celebrate when the trailer depicted nearly every Disney Princess hanging out together. But that celebration turned sour when everyone noticed that Princess Tiana from The Frog Princess had been altered to the point of whitewashing. Essentially, an animated character of color was being rebooted with a much lighter skin tone.
Fans and advocacy groups quickly noticed the change and pressed Disney to do something about it. After all, why have a character in the movie at all (even in a cameo) if only to diminish the importance of representation? Refreshingly, Disney listened. Even though Wreck-It Ralph 2: Ralph Breaks the Internet is set to be released very soon on November 21, the scene in question will be re-animated to restore Princess Tiana to her correct skin tone. This change occurred due to a combination of fan outcry, but also thanks to the efforts of the non-profit group, Color for Change.
After consulting with Disney, and the voice actress for Tiana, Anika Noni Rose, Color for Change happily reported that the scene would be changed.
Among the pantheon of Disney princesses, Tiana is the only identifiable black woman, making the skin-lightening slight in Wreck-It-Ralph 2 disturbing and strange. Nonetheless, Disney has clearly done the right thing, albeit after a little bit of pressure.
Wreck-It Ralph 2: Ralph Breaks the Internet is out on November 21. To be clear, Princess Tiana is not the main character in the film and the segment in which all the Dinsey princess hang out is mostly a brief meta-fictional inside joke. Still, at least now, this scene will reflect all the princess as they were meant to be.
This article was originally published on