Where Can You Stream All of 'Saturday Night Live'? Answer : Peacock
Finally. More television.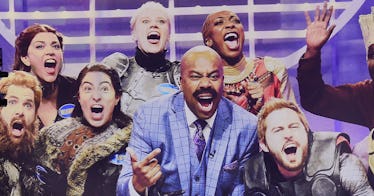 Getty
Listen. At this point — at least, if you're anything like me — you might feel like you've worked through the entire streaming libraries of Hulu and Netflix and Amazon Prime Video and Peacock and Disney+. Every single season of Top Chef on Hulu? Done and dusted. Every single episode of Great British Baking Show, over, and over, and over again? Totally toast. I scroll through the streaming platforms every day after work, delayed, wondering when I'll be able to watch something new. Luckily, Saturday Night Live is here to save the day — not just with new episodes, which will premiere on NBC on Saturday, October 3 — just a few short days from now — but also with all 45 seasons of the show going straight to streaming on Peacock.
Yes! Every single episode since the show first aired in 1975 will hit Peacock on October 1. Given how many seasons the comedy show has been on the air, that amounts to 889 episodes for people to be able to watch. This is a huge jump in inventory over current streaming stores of the show (only the most recent five seasons are currently on Peacock) and represents a whole bunch of on-the-couch-time for me, watching episodes of SNL I've probably never seen before. After all, while I'm well versed in the classic eras (Gilda, anyone? Chevy Chase? The Landsharks, Van Down by the River, all of the recent alien abduction skits, etc?) but that doesn't mean that I've seen every single episode that Gilda is in.
Anyway, it's a fun trip down memory lane, and it's about 889 trips down memory lane. Watch how comedy has evolved —and really, how it hasn't — over 45 years of weekly shows.
Saturday Night Live's 45 seasons will begin streaming on Peacock on October 1.
This article was originally published on