Where Are the States Where Students Still Have to Wear Masks?
Many, many states have dropped their school mask mandates — and more are soon to come. Here's what to know.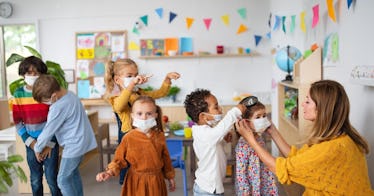 Halfpoint Images / Getty Images
Across the country, more and more governors are announcing the loosening of COVID-19 restrictions, including mask-wearing in schools. At present, only five states and the District of Columbia have mask mandates in place, and all but two of them are set to expire within the next two weeks.
Many states never had in-school mask mandates in the first place, with state lawmakers filing injunctions or making executive orders to outlaw the requirement early in the pandemic. Lawmakers in Florida, Texas, Utah, and Virginia have active rules against requiring masks in public schools. Others, including Arizona, Arkansas, Iowa, Oklahoma, South Carolina, and Tennessee, have mask mandate bans that are currently tied up in state court systems.
Of the states that required in-school masking, only a handful remain, and the majority of those will be rescinded soon in light of the CDC's new mask guidelines that recommend masking based on different criteria than has previously been followed. Here are the states that still have mask mandates in schools — and when they will end.
California
California's statewide school mask mandate is in effect until March 11th. Governor Gavin Newsom announced the change on February 17th. "California continues to adjust our policies based on the latest data and science, applying what we've learned over the past two years to guide our response to the pandemic," Governor Gavin Newsom said during the announcement. "Masks are an effective tool to minimize spread of the virus and future variants, especially when transmission rates are high. We cannot predict the future of the virus, but we are better prepared for it and will continue to take measures rooted in science to keep California moving forward."
Though California lifted its indoor mask requirement and the in-school mask mandate will end soon, state officials are still strongly encouraging masks in those settings. Masks are still required in high transmission settings like public transportation, homeless shelters, health care facilities, and correctional institutes.
District of Columbia
D.C. Mayor Muriel Bowser announced the rescission of mask mandates for public indoor spaces but has not indicated that indoor school masking will end in the foreseeable future.
However, district lawmakers announced that students would no longer be required to wear masks while outdoors on school grounds as of March 1st.
Hawaii
The Aloha State stands as the only state that has not set an expiration date for in-school mask mandates. State lawmakers say they are following the guidance of the state Department of Health.
There is, however, some lessening of Covid restrictions in the state. Hawaii Governor David Ige recently announced the upcoming suspension of the Safe Travels program, which required out-of-state visitors to show proof of vaccination and complete a quarantine period before being allowed to travel in the state. There is no indication that state lawmakers will rescind indoor mask requirements either in schools or other public indoor spaces any time soon.
New Jersey
The New Jersey in-school mask mandate is set to expire on March 7th, and students will no longer be required to wear masks either in schools or on school transportation. School districts in New Jersey will have the option to extend their mask mandates as the various school boards see fit, but they will no longer be enforced at a state level.
Oregon
Oregon lawmakers, alongside the governors of neighboring California and Washington, announced that in-school mask mandates would be lifted on March 12th. Requirements for masking in all indoor public spaces will rescind the same day.
Washington
Washington Governor Jay Inslee announced that students would no longer be required to wear masks starting March 12th. The Seattle Public School district opted to maintain its indoor and outdoor masking requirements until further notice.