Why Daniel Craig's Last James Bond Film Might Never Come Out
With Danny Boyle leaving the project, the future of 007 is uncertain.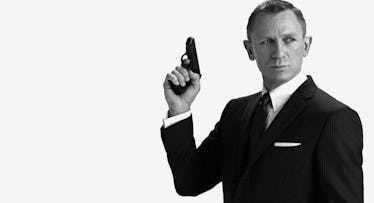 MGM/Sony/EON Productions
In an unexpected real-life plot twist, the next James Bond film — expected to be Daniel Craig's final 007 movie — might be delayed indefinitely. On Wednesday, in a joint statement, the producers of the Bond franchise and star Daniel Craig himself said that famous Trainspotting director, Danny Boyle, will no longer be directing the new movie. Will the final Daniel Craig Bond movie ever come out?
Writing for the Guardian, critic and reporter Catherine Shoard said: "A delay to the scheduled release date of 25 October 2019 looks inevitable; there is also speculation the fallout could stretch further, claiming star Daniel Craig as another victim." In other words, because the movie is likely being put on hold because of Boyle's departure, Craig might not end up being in the movie at all. This doesn't necessarily mean Idris Elba will step in — he's denied he's going to be James Bond — but for right now, all expectations about what would happen with the next Bond movie went from being crystal clear to super-murky overnight.
It's also not clear exactly why Boyle left the project. Some are speculating it's all connected to the script, which is rumored to controversially address how James Bond might fit in with the #MeToo era. In other words, some industry rumors suggest that the final Daniel Craig Bond film would have taken a much harder look at the character than previous entries into the franchise. This speculation suggests that these risky aspects are the "creative differences" that led to Boyle no longer doing the movie.
Every single James Bond movie since 1999's The World Is Not Enough was written by screenwriting duo Neal Purvis and Robert Wade. (Though a few films share that credit with John Logan and Paul Haggis.) The point is, the Boyle film was set to be written by Boyle and John Hodge, meaning, the final film of the Daniel Craig era was going to have a totally different tone than all the 007 since 2006's Casino Royale. There's no reason to believe that Bond 25 will use the Hodge/Boyle screenplay, if and when the movie gets made.
At this point, Bond fans will have to wait for the next official announcement, but it looks like two outcomes are most likely: either the next James Bond movie will be put on hold indefinitely, or powers-that-be will regroup quickly with a new director and new script and still get the movie out — with Daniel Craig — sometime late in 2019. For fans of Daniel Craig (and who isn't?) the second option is obviously ideal, though it could be a very difficult mission, even for 007.
This article was originally published on